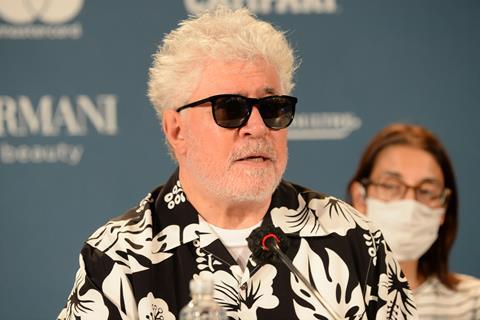 Continuing a strong relationship with Pedro Almodóvar and El Deseo, FilmNation has reported a raft of international pre-sales on the Spanish master's upcoming Penelope Cruz drama Madres Paralelas (Parallel Mothers).

Production is being lined up for early 2021 on the Madrid-set story of two women who give birth on the same day and live a parallel existence.
The development comes after a busy virtual TIFF for FilmNation that saw Glen Basner's blue chip sales, production and finance company sell most of the world on Almodóvar's short film and recent Venice world premiere The Human Voice.
Sony Pictures Classics has picked up Madres Paralelas for Australia and New Zealand.
FilmNation has also closed deals with Germany (Studiocanal), Italy (Warner Bros.), CIS (Volgafilm), Japan (Kinoshita Management Co.), South Korea (Challan), and Scandinavia (Scanbox), as it did on The Human Voice.
Further pre-sales have closed in Portugal (Pris Audiovisuals), Singapore (Shaw Renters PTE), Taiwan (Filmware International Co. Ptd.), Bulgaria (Pro Films Ltd), former Yugoslavia (Cinemania Group); Poland (Gutek Film), Hungary (Cinetel Ltd.), and Romania (Independenta Film).
Filmfinity Proprietary Limited has acquired Madres Paralelas for South Africa, Odeon for Greece, Lev Cinemas for Israel, and Yeni Bir Film Ltd for Turkey.
Agustín Almodóvar and Esther García are producing through El Deseo.
As previously reported on Screendaily, Almodóvar wrote the Spanish-language script with Cruz in mind for the lead role while in quarantine during the lockdown.
The filmmaker has worked with Cruz on All About My Mother, Volver and his last feature, Pain & Glory.