"We're seeing a challenge in the film space largely due to the streaming platforms, how do you get people to continue to go to theatres when there is so much available at home? So much of what is available at home is of such high quality," asked Alexis Garcia of Endeavor Content at the AFM Finance Conference yesterday (Nov 3).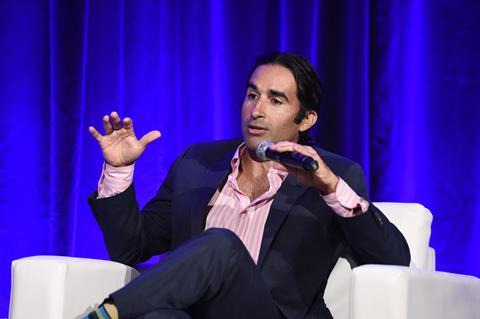 Adrian Alperovich of OddLot Entertainment said that "from a producer's standpoint the proliferation of platforms is a good thing" and that even if a platform like Netflix doesn't believe in the theatrical experience that just means more fragmentation to come: "more content is created more specifically for specific audiences."
John Penotti of Sidney Kimmel Entertainment agreed that streaming services work with quality content but he added, "I am wishful for some new model to make the theatrical model still relevant…I don't know what the answer is."
Penotti added that "With streaming platforms trying to buy worldwide rights, it's a tricky place to be as a financier. As with any investor we want to hold some of that upside [for a potential breakout]. How do we make our content attractive enough for these global platforms and still hold some of the investment upside?"
Penotti said it's a trap to think that platforms like Netflix "are dumping grounds… There is not just the feed-the-rack at Walmart mentality that was prevalent 10-15-20 years ago."
Indeed, Garcia joked, "If I had a dollar for every time somebody said, 'We'll just sell it to Netflix'…"
Garcia said another threat to the film space is that TV series are attracting big talent, who want to explore characters over more hours of content, and are also being paid more for series than they would be for an indie film.
Penotti said the international markets were ripe for film opportunities. In recent years, SKE is doing more work in China, Korea, India, Japan, and now in Latin America. "We are consciously reducing the amount of money we put at risk here in the States. That's the biggest shift we're spending much more of our resources internationally on local language projects."
At a later session, Cassian Elwes praised Netflix for coming on board Dee Rees' Mudbound, not an easy sell as a period drama dealing with race relations. "Netflix was the only company that would buy the movie from us, and they will be rewarded, and I promise you that you will get some Oscar nominations from this picture. They are the bravest company in this business to take this picture," he said.
Elwes also spoke about the current spate of sexual harassment allegations. " There's a lot of white men that should be very, very nervous right now," he said. "This town is filled with a lot of really revolting behaviour and it's going to end, which is fantastic. Women have a voice, the genie is never going to be put back in its box, it's about time, I'm happy with what's going on."
Skydance's model
Jesse Sisgold, president/COO of David Ellison's Skydance said that company is thriving in part because it takes Silicon Valley's approach to new models. "It's taking the best ideas where we can get them, and not being trapped with legacy infrastructure."
He said Skydance is "absolutely" a believer in the theatrical experience but it has to be worth it for the consumer. "Part of the sag in box office is the audience is getting fatigued seeing the same things over and over," he said, adding that Skydance is trying to innovate with a new original film by Ang Lee, Gemini Man starring Will Smith. "We are big believers that the traditional Hollywood studios should jump ahead and accept where things are going – like day and date distribution," he said.
Skydance works across TV, film, animation and VR. They start with story and character and then try to determine format. "We stop and think about our fans and consumers. What is the best launch point, that may be as simple as a 5-minute short on Snapchat or Facebook that can start to build an audience, or it could jump right to a 90-minute feature film that would go out through Paramount."
All of the company's IP is usually planned across platforms. "No matter where it starts we think can create a world for our fans," he said. Tom Clancy's Jack Ryan franchise, which got a lukewarm response as a theatrical film, will next launch as an Amazon series.