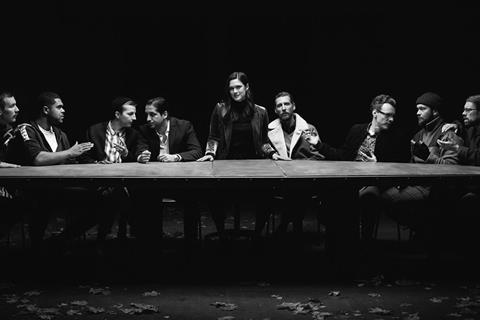 Teemu Nikki and Jani Poso's Finnish comedy thriller Mister8 won two top prizes at the Canneseries awards this week.
Series one of the show, which consists of eight 30-minute episodes, received the prize for best series, as well as best performance for Pekka Strang.
Scroll down for the full list of winners
Shot in black-and-white, Mister8 is a modern neo-noir about a CEO of a family business who has eight different spouses, but then falls in love with a new man in town.
Created by Nikki and Poso, it is written by Nikki, Vesa Virtanen and Anteo Jokinen, directed by Nikki, and produced by Poso for Finland's It's Alive Films.
Nikki and Poso previously collaborated on Finnish feature The Blind Man Who Did Not Want To See Titanic, which won the audience award in Horizons at Venice Film Festival last month.
Paris-based Federation Entertainment is handling sales on Mister8.
The Grand Prix was awarded to German series The Allegation, a legal drama inspired by the country's Worm Trials, a 300-day trial running from 1994 to 1997 which saw 25 defendants accused of child abuse.
The Allegation, which consists of seven 30-minute episodes, also won best screenplay for writer Ferdinand von Schirach. The cast includes Peter Kurth, Narges Rashidi, Sebastian Urzendowski and Desiree Nosbusch.
Norwegian series Countrymen, created by Izer Aliu and Anne Bjornstad, won the Special Interpretation prize, as well as the High School prize for best series.
The audience award went to Serbian series Awake, directed by Jelena Gavrilovic and Uros Tomic.
Canneseries 2021 winners
Best series
Mister8 (Fin)
Creators: Teemu Nikki, Jani Poso
Dir: Teemu Nikki
Best short- form series
About Saturday (Nor)
Creator-dir: Liv Mari Ulla Mortensen
Grand prize
The Allegation (Ger)
Dir: Daniel Geronimo Prochaska
Best performance
Pekka Strang, Mister 8
Special Interpretation prize
Countrymen (Nor)
Creators: Izer Aliu, Anne Bjornstad
Dirs: Izer Aliu, Aurora Gosse, Brwa Vahabpour
Revelation prize
Malik Gervais-Aubourg in Je Voudras Qu'On M'Efface
Best screenplay
Ferdinand von Schirach for The Allegation
Best music
Giorgio Giampa for Christian
Audience award
Awake (Ser)
Dirs; Jelena Gavrilovic, Uros Tomic