EXCLUSIVE: HotDocs title gets international sales deal.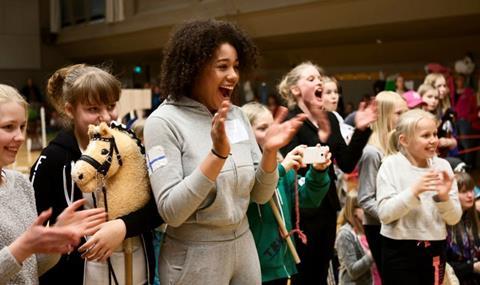 First Hand Films has boarded sales for Selma Vilhunen's documentary feature Hobbyhorse Revolution.
Hobbyhorse Revolution was released by Tuffi Films in Finnish cinemas in March and will be released in Sweden later this year by Folkets Bio. It won two prizes at Tampere Film Festival in March and also played at HotDocs.
The film delves into the world of Finnish teenage girls who ride and groom toy horses.
"I wanted to showcase that these girls are powerful in their attempt to claim agency in their sport and, though it might seem extra-ordinary, it isn't so different from fantasy football," said Vilhunen. "For the girls in this film, hobbyhorsing is a real way to cope with not only the pressure of growing up but some of the bullying that comes along with it."
Esther van Messel of First Hand Films told Screen, "Hobbyhorse Revolution made us smile from the first moment, and we were incredulous about these girls and their toys. As the project grew and the film progressed, we couldn't stop being impressed by the girls and their achievements. We are very proud to work with this talented filmmaker and her equally wonderful producers. We're all girls somehow, and we all love empowerment."
Vilhunen's debut fictional feature Little Wing played at Toronto 2016, and won the Golden Camera Taodue Award in Rome.
Vilhunen was Oscar nominated for her short film Do I Have To Take Care of Everything? She is a partner in all-female production company Tuffi, which is based in Helsinki.