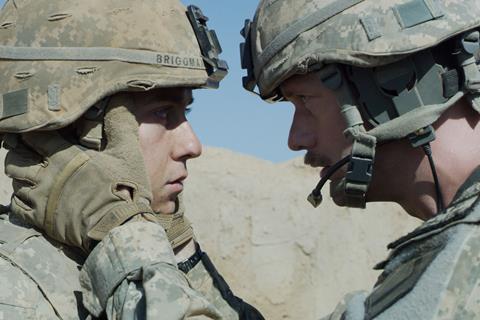 Screen can exclusively reveal this first image of Nat Wolff and Alexander Skarsgard in Dan Krauss's The Kill Team, which wrapped its six-week shoot in Spain on Oct 20.
The psychological thriller is about adapted from Krauss' 2013 documentary of the same name, about a young American soldier in Afghanistan who struggles between his conscience and his survival when members of his platoon carry out a murderous scheme in the desolate wasteland of Southern Afghanistan.
Cornerstone Films handles international sales and UTA and CAA jointly represent North American rights.
The cast also features Rob Morrow, Adam Long, Jonathan Whitesell and Brian Marc.
Adrián Guerra is producing through Nostromo Pictures (Buried) together with Wyck Godfrey, Marty Bowen and Isaac Klausner from Temple Hill Entertainment (The Fault in Our Stars).
Nostromo Pictures' Nuira Valls and Miguel Ángel Faura are executive producers and Ben Smith from Temple Hill serves as co-producer.
The crew includes cinematographer Stéphane Fontaine, production designer Victor Molero, and costume designer Cristina Sopeña.
Krauss was previously Oscar nominated for The Death Of Kevin Carter.
Mark Gooder and Alison Thompson's Cornerstone is also selling Chiwetel Ejiofor's directorial debut based on the book The Boy Who Harnessed the Wind; Mike Leigh's upcoming Peterloo; Christoph Waltz's directorial debut Georgetown; Daniel Kokotajlo's Toronto premiere Apostasy; and Paddy Considine's boxing drama Journeyman.