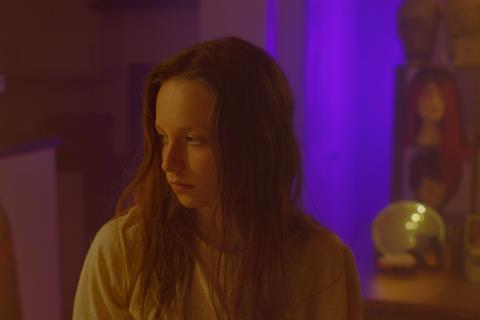 Screen can unveil a first look at Molly Windsor (a TV Bafta winner for BBC series Three Girls) in writer-director Claire Oakley's feature debut Make Up, which has now wrapped following a five-week shoot in Cornwall, UK.
The film is produced by Emily Morgan of Quiddity Films (I Am Not A Witch) and was developed through Creative England's iFeatures initiative - which has previously produced features including Lady Macbeth and Apostasy - in partnership with the BFI, BBC Films and Creative Skillset.
In Make Up, Windsor portrays a young woman who is drawn into a mysterious obsession when she suspects her boyfriend has cheated on her. Joseph Quinn (Howards End), Stefanie Martini (Prime Suspect 1973), Theo Barklem-Biggs (Kingsman: The Secret Service) and Lisa Palfrey (Pride) also star. Key crew include DoP Nick Cooke and casting exec Olivia Scott-Webb.
iFeatures is funded by BFI, BBC Films and Great Point Media, and was relaunched in 2018 as a year-round development lab.
Director Oakley is currently developing feature The Swan with Torino Lab and Creative England, and is also co-directing BFI-backed documentary My Husband, The Cyborg. Producer Morgan was a Bifa and Bafta-winner this year for I Am Not A Witch.
Morgan commented: "iFeatures provided the ideal development framework for the film [Make Up], and we've gathered together an incredible cast and crew of emerging talents to bring Claire's genre-bending vision to life."
Zorana Piggott, executive producer for iFeatures4, added: "Claire and Emily are amongst the most exciting emerging film-makers working in the UK today and we are delighted to be kick-starting the iFeatures4 slate with the Make Up shoot. We are also very proud of the brilliant crew consisting of over 50% female technicians working on the project."
The fourth iteration of iFeatures also gave the green light to Perfect Ten, written and directed by 2016 Screen Star of Tomorrow Eva Riley and produced by Jacob Thomas, and Retreat, written and directed by Ted Evans, one of the UK's leading deaf filmmakers and produced by 2009 Screen Star of Tomorrow Michelle Eastwood and Alex Usborne.