EXCLUSIVE: Screen Stars of Tomorrow involved in trio of projects set for production.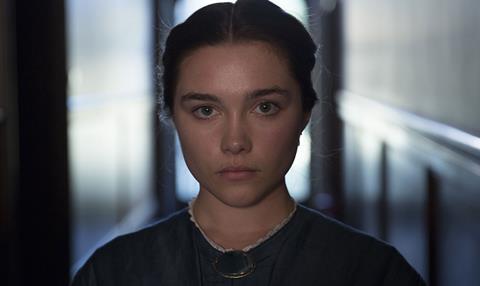 A trio of projects have been greenlit for production in the latest round of Creative England's low-budget filmmaking initiative iFeatures.
Three Screen Stars of Tomorrow are present in the selected teams - writer-director Eva Riley with Perfect Ten, producer Emily Morgan with Make-up, and producer Michelle Eastwood with Retreat, which is set to be the first British feature film to be made entirely in sign-language.
The latest set of productions follows a period of success for the programme. Last year, William Oldroyd's Lady Macbeth [pictured] and Hope Dickson Leach's The Levelling, both greenlit by iFeatures in 2015, secured major festival berths.
Subsequently, Lady Macbeth sold to the US (Roadside Attractions) and UK (Altitude Film) among others, and Peccadillo Pictures acquired The Levelling for the UK.
The three selected projects in 2017 are:
Perfect Ten, written and directed by 2016 Screen Star of Tomorrow Eva Riley and produced by Jacob Thomas. A Brighton-based story about a teenage gymnast who finds an escape from her insecurities when her long-lost brother introduces her to an exciting world of scooter crime.
Retreat, written and directed by Ted Evans, one of the UK's leading deaf filmmakers and produced by 2009 Screen Star of Tomorrow Michelle Eastwood and Alex Usborne. A thriller set in Bristol about a deaf young woman who decides to leave the hearing world to live in an all-deaf commune.
Make-up, by writer/director Claire Oakley, with 2015 Screen Star of Tomorrow Emily Morgan producing. A psycho-sexual thriller set in Cornwall about a young woman who is forced to question her sexuality when she is stalked by another woman.
iFeatures is overseen by Creative England with partners the BFI Film Fund, BBC Films and Creative Skillset.
Zorana Piggott, iFeatures executive producer, commented on the new slate: "The standard of projects on this year's iFeatures' slate has been incredibly high and I am very proud that we go forward with Ted Evans and his extraordinary vision for the first British film in sign language, and Eva Riley and Claire Oakley, two powerful new female voices in British cinema."
Last month, Creative England's head of film Brek Taylor stepped down after just four months in the position, adding to further cuts last year that led to speculation about the future of the organisation.
However, upon revealing its five-year plan in December last year, the BFI confirmed it remained committed to backing the iFeatures initiative.