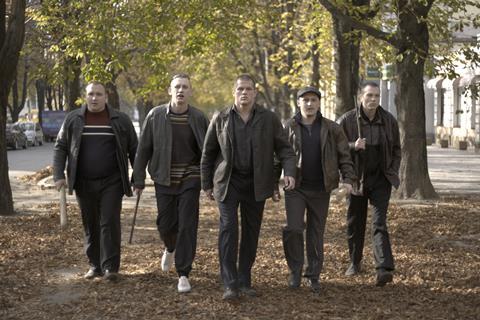 Ukrainian filmmaker Oleg Sentsov is to showcase footage from upcoming feature Rhino at Bulgaria's Sofia Meetings, which is taking place virtually from March 17-24.
It marks the third feature from Sentsov and was originally pitched at the industry platform in 2012, before being abandoned when the filmmaker was arrested by the Russian Federal Security Service in May 2014 and later sentenced to 20 years imprisonment. Sentsov resurrected the project after being released from prison as part of a prisoner exchange in September 2019.
Set in 1990s Ukraine, the drama centres on an average man who becomes a criminal during the country's transition out of the Soviet Union. Filming took place from September to Decmeber 2020 on location in the Ukrainian industrial city of Kryviy Rih.
The Ukraine-Poland-Germany co-production is produced by Kiev-based distributor and producer Arthouse Traffic, with Sentsov's own Cry Cinema, Warsaw-based Apple Film Production, and Germany's Ma.ja.de film. Sentsov is producing alongside Denis Ivanov, Dariusz Jablonski, Izabela Wojcik, Violetta Kaminska and Heino Deckert.
Second virtual edition
The project is one of 17 fiction features and three documentaries being presented in Sofia Meetings' works in progress section, which is only open to distributors, sales agents and festival programmers via the Festival Scope Pro platform. It marks the second year the industry event has taken place online as a result of the pandemic.
The line-up includes films that had been presented as projects at previous editions of the Sofia Meetings such as The Good Driver, marking the debut feature of Bulgaria's Tonislav Hristov, and coming-of-age drama How I Learned To Fly, by Bosnian filmmaker Radivoje Andric.
Others include Chamla, the second feature from Bulgaria's Victor Bojinov; psychological drama Mimi, by North Macedonian filmmaker Darijan Pejovski; and Rock, Scissors, Grenade, the debut feature of Ukrainian director Iryna Tsilyk.
The industry platform will also see 10 features pitched as part of its Second Film Projects section. These include mystical detective drama Frost, by Serbia's Pavle Vuckovic; fantasy drama Maya, by Cypriot filmmaker Tonia Mishiali; comedy Luxembourg, from Ukraine filmmaker Antonio Lukich; and drama Cold As Marble, directed by Azerbaijan's Asif Rustamov.
The Plus Minus One section, comprising 13 debut or third features, includes Katharina Rivilis' German coming of age drama I'll Be Gone In June, produced by Wim Wenders' Road Movies; UK-based Ali Jaberansari's The Genesis Hotel & Spa; and Polish filmmaker Filip Syczynski's gritty comedy The Great Match, described as "Billy Elliot meets Borg vs McEnroe".
TV series projects
The 18th edition of Sofia Meetings will also spotlight nine TV projects, which are being planned by production companies from the Czech Republic to Cyprus.
Cypriot Mishiali, who will also pitch in the Second Film Projects section, will present nine-part comedy-drama series Life Unexpected as a producer and is also attached to supernatural thriller series Midnight Shift as a director.
Bulgaria's Agitprop will pitch eight-part drama Babyland, which already has Germany's Nadcon and Belgium's Lumiere onboard as partners, while Prague-based Bionaut will discuss 10-part horror anthology Different.
Unlike previous years, when the Meetings' programme ran over four days, this virtual edition will run across eight days, giving participants opportunity to arrange one-to-one meetings about projects and attend organised roundtables and presentations.
In addition, Sofia will again host closed events for members of Europa Distribution, Europa Cinemas and Midpoint TV Launch as well as a pitching session of feature debuts from Turkey, Serbia, Romania, Greece, Slovenia and Croatia as part of the First Films First initiative.