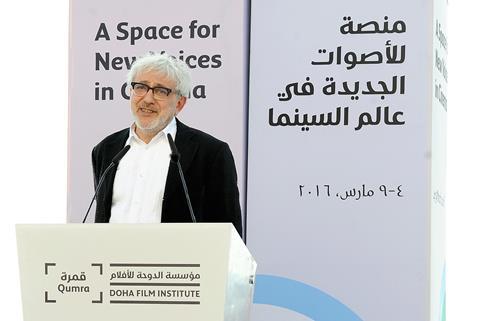 The Doha Film Institute's annual talent and project development event Qumra usually culminates in a lively outdoor party amid the dunes of Qatar's Sealine Desert.
With this year's seventh edition moving online due to the Covid-19 pandemic, it wrapped very differently.
Participants simply logged off the dedicated Qumra online platform and returned to their locked-down realities in cities as geographically diverse as Beirut, Tunis, Berlin, Paris, London, Vienna, Athens, New York, Los Angeles, Dar es Salem, Manila, Phnom Penh and, for the participating Qatari filmmakers, Doha itself.
"I expected it to be an alienating experience," commented Paris-based Palestinian director and DFI artistic advisor Elia Suleiman, who describes himself as "digitally illiterate". "But a sense of togetherness that should have not happened on Zoom, happened at this Qumra."
Running March 12-17, the event showcased 48 short and feature-length projects from 41 countries, that had previously received the support of the DFI grants programme. More than 200 international industry professionals took part, participating in some 700 separate Zoom meetings.
"We've seen that nothing can stop us from dreaming and our process of wanting to change things for the better," said DFI CEO Fatma Hassan Alremaihi. Although the goal is to return to physical events as soon as the global health situation permits, she said the institute would undoubtedly retain online elements at future editions.
As per its physical format, this year's iteration was headlined by masterclasses by five Qumra 'masters', comprising filmmakers Claire Denis, James Gray and Jessica Hausner, Oscar-winning sound designer Mark Mangini and cinematographer Phedon Papamichael, who has just been nominated in this year's Academy Awards for The Trial Of The Chicago 7.
There were also talks by singer-songwriter Yasmine Hamdan and photographer Brigitte Lacombe.
"The masters drew me in. They were so invested," said Suleiman. "After each class, I felt the same void or melancholy I experience at Qumra."
A sense of community
For many of the filmmakers with projects, the event gave them an opportunity to connect with the international filmmaking scene after months of working alone.
"We can't meet in the same way we do at a physical Qumra but I'm sure for the filmmakers that this has been a very instructive few days. It's been a very welcome few days in the sense of creating a sense of community," said Qumra mentor Moroccan filmmaker Tala Hadid.
"Of course, it's not a physical encounter so we don't have those chance meetings in the hallways, those happy accidents," said Lebanese director Meedo Taha who participated with feature project A Road To Damascus. "But what is the alternative? The alternative is that I would have been in between these four walls, literally drowning in all the books I've bought for these last 12 months, by myself with my thoughts."
Taha was participating from his home in Los Angeles, navigating the 10-hour time difference between the US West Coast and Doha by sleeping during the day and working at night. "It's actually a blessing in disguise," he said. "I live with a seven-year-old, who is very active and very noisy. This way, I have the space to myself."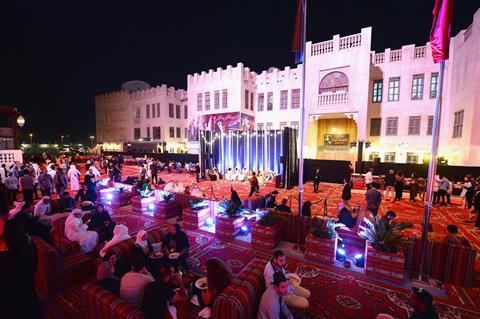 His project A Road To Damascus, a police investigation drama led by a female protagonist, touching on issues of immigrant rights and feminism in contemporary Lebanon, was among the 15 fiction and non-fiction features in development that were showcased at Qumra. The others included Lebanese director Mahmoud Kaabour's documentary Handala, The Boy Without A Face, about the iconic cartoon character symbolising Palestinian resistance; Tunisian filmmaker Youssef Chebbi's social thriller Ashkal and Qatari artist and director Noor Al-Nasr's coming-of-age, time-travelling drama The Pearl.
The impact of the pandemic was omnipresent in the backdrop as filmmakers discussed how they personally dealt with the situation to continue developing projects, shoot or finish co-production, or simply capture the events of the last year, or catch up on film watching. Lebanese director and Qumra mentor Ghassan Salhab said he had found some of the participants in a "fragilised" state due to the events of the past year and that he felt he was sometimes dealing with the filmmakers "psychologically" as well as helping them to take their projects onto the next stage.
"It was such an interesting time," said Qatari artist and filmmaker Al-Nasr. "Just to navigate the shock of what's happening in the world. I did a lot of walking with my camera, capturing the empty streets and even did a short video which I published online and went viral."
Lebanon's Kaabour revealed he had reconfigured his plans for Handala, The Boy Without A Face, which explores how the cartoon figure has popped up on walls all over the world and also been embraced by other resistance movements. "I originally envisioned travelling to nine countries," he said of his project. "I don't think I can do that anymore so right now I'll travel to two or three when the time permits. For all the individuals I hope to speak to, we'll use techniques of remote production, getting family members to film them or getting them to film themselves."
The pandemic has even prompted a change in the technology he will now use.
"I've bought myself an iPhone12 Pro and I'm going to be using it," he continued. "Animation is a great aspect of this film as it can be done remotely. I'm keen not to wait until the world goes back to normal because I don't believe it will. This is a chance to re-interpret my ideas."
Like many of the Lebanese participants, Kaabour has also had to contend with the devastating impact of the August 4 blast in Beirut and Lebanon's ongoing economic crisis dating back to 2019. He flew to Lebanon four days after the deadly explosion and shot a short film about a family heavily impacted by the explosion which will soon show on French TV.
Compatriot Mounia Akl, who participated with the work-in-progress showcase with drama project Costa Brava Lebanon, recounted how she been in a pre-production meeting with her producer Myriam Sassine at Abbout Productions when the blast destroyed its offices.
"We were at the office on August 4 talking about how we were going to change the world with our impact campaign and then the office collapsed on us," she said. "We made the film two months later. The highlight [of making the film then] was that I felt we were in this bubble that we created together which was very healing… we all needed a purpose. The downside was the financial collapse, the PTSD and the Israeli drones constantly above in the sky and the pandemic."
In the Qumra picture- lock feature narrative selection, Amil Shivji, who is based in the Tanzanian capital of Dar es Salem, ended up working with an editor in Paris to complete his colonial-era resistance drama Tug Of War, when the lockdown in South Africa made it impossible to continue working with his original editor in Cape Town.
"We have never physically met. It's weird not being in the same room," he said, citing challenges such as the language barrier, internet connections and "online jet-lag". But the benefits are also plentiful, "It also gave us time to disassociate ourselves from the footage physically and go down now a new route for the film,
For Shivji, Qumra had given him a boost at just the right time.
"This is the first industry event that the film is present at so hearing the reactions gives you a sense of hope which is so important at this point. We just don't know what the future looks like so getting feedback from festivals and sales agents gives you the energy to keep pushing on," he said.