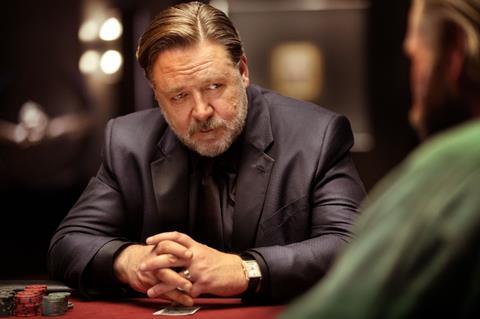 Arclight Films kicks off worldwide sales this week and has released an exclusive first image from the thriller Poker Face directed by and starring Russell Crowe alongside Liam Hemsworth.
Crowe plays a billionaire gambler who offers his best friends the chance to win more money than they have ever dreamed of. However, in return, they will have to give up the secrets they have spent their lives protecting and will learn the true nature of what is at stake.
Elsa Pataky and Wu-Tang Clan's RZA round out the key cast on the Hamilton Entertainment production, which shot in New South Wales, Australia, and is in post-production. Crowe co-wrote the screenplay with Stephen M. Coates.
Poker Face marks the second directorial outing for Gladiator star Crowe after The Water Diviner, which won the Australian Academy award for best film in 2015. Hemsworth's credits include The Hunger Games franchise and Quibi series Most Dangerous Game.
Arclight's Gary Hamilton produces with Keith Rodger, Ying Ye, and Ryan Hamilton alongside Addam Bramich, Catchlight Studios' Jeanette Volturno and Jason Clark and Matt Williams.
Executive producers are Arclight Films' Brian Beckmann, Walter Josten, Joe Thomas, Mikael Borglund, Romilda De Luca and Alceon Entertainment Partners alongside Julia Stuart and Laura Grange from Sky and Jay Douglas.
Poker Face is financed by MEP Capital, Alceon Entertainment Partners, Sky and Australian funding entities through the New South Wales government's Screen NSW Made in NSW fund. Co-producer Sky will release Poker Face as a Sky Original in the UK and Germany.
Arclight Films' slate includes The Portable Door starring Christoph Waltz and Sam Neill; thriller The Locksmith with Ryan Phillippe, Kate Bosworth and Ving Rhames; and dark comedy Big Gold Brick starring Andy Garcia, Emory Cohen, Megan Fox and Oscar Isaac.