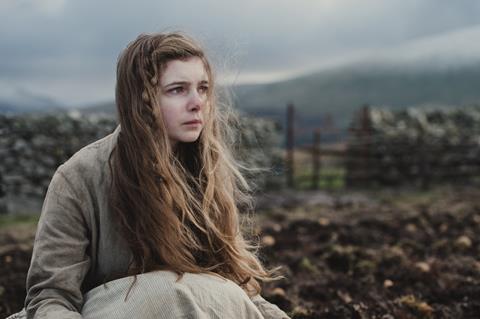 Screen can unveil a first look at William McGregor's debut feature Gwen, which was taken to Cannes this year as part of the BFI, BBC Films, Film4 and British Council's showcase Great 8.
The event, which took place last week, presented eight upcoming UK indie titles to a select group of Cannes buyers. The other titles were: Beats, Eternal Beauty, Ilkley, Only You, Tell It To The Bees, We Don't Talk About Love, and White Riot. According to an attendee, Gwen was one of the best-received presentations.
The film stars former Screen Star of Tomorrow Eleanor Worthington-Cox (Maleficent) in the story of a young girl trying to hold her family together. Set in 19th century Snowdonia, the film depicts the girl's struggle with her mother's mysterious illness, her father's absence and a ruthless mining company encroaching on their land.
Maxine Peake (Funny Cow), Richard Harrington (Hinterland), Kobna Holdbrook-Smith (The Commuter) and Mark Lewis Jones (Star Wars: The Last Jedi) also star with newcomer Jodie Innes.
Writer-director McGregor's credits include episodes of Poldark and Misfits. He was a Screen Star of Tomorrow in 2012.
Gwen was developed by the BFI and Endor Productions, a Red Arrow Studios company, with Endor's Hilary Bevan Jones and Tom Nash as lead producers.
The BFI's Lizzie Francke, Paul Grindey and Charles Moore of Viewfinder Films, Fergus Haycock of Great Point Media and Adam Partridge of Ffilm Cymru Wales act as executive producers. The production is co-financed by the BFI and Ffilm Cymru Wales. Great Point is also handling sales.