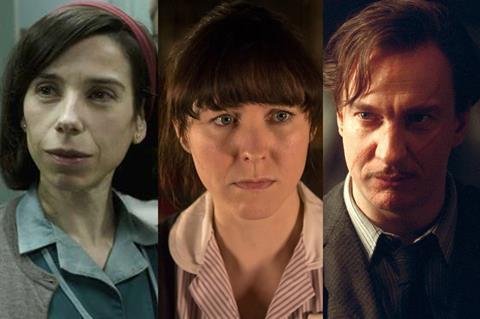 Alice Lowe (Prevenge) and David Thewlis (The Theory Of Everything) have joined Sally Hawkins in Craig Roberts' Eternal Beauty ahead of production in Wales this Spring.
UK sales outfit Bankside Films has taken international rights and will introduce to buyers at the European Film Market (EFM) in Berlin. Endeavour Content and Bankside Films are co-representing US rights.
The project is the second feature from director Roberts (known for his acting roles in Submarine and TV series Red Oaks) after Just Jim, which premiered at South by Southwest in 2015.
Screen first reported on the project (then titled In My Oils) when Roberts launched London-based production outfit titled Cliff Edge Pictures with producers Pip Broughton and Adrian Bate.
Screen also revealed in December that Hawkins, in the running for this year's Best Actress Oscar for his role in The Shape Of Water, would lead the cast. She said that Roberts "has written a beautiful script and has been waiting a long time… It's a lovely part and I'm really honoured he's even thinking of me for it."
Adrian Bate will produce the feature and Pip Broughton will exec produce under the Cliff Edge banner. Further exec producers are Mary Burke for the BFI, Adam Partridge for Ffilm Cymru Wales, Meroë Candy for Wellcome and Paul Higgins.
The film is backed by the Welsh Government, the BFI with funding from the National Lottery, Ffilm Cymru Wales and the Wellcome Trust.
Stephen Kelliher of Bankside Films said of the project: "We are thrilled to be working with Craig, Sally and the immensely talented team on Eternal Beauty. Craig's story is funny and touching in equal measure and it promises to speak to audiences around the world with its life-affirming take on a universal theme."
Producer Adrian Bate of Cliff Edge Pictures said: "Eternal Beauty represents Craig's 'coming of age' as a director and his unique authorship will surprise and delight both new and existing audiences. And we are so fortunate to have the chance to work with a wonderful cast who will inhabit and enhance Craig's vision and characters."
Craig Roberts said: "I want to shine a light into some pretty dark places but I want to do it with affection, humour and respect. I've been living with the characters in Eternal Beauty for a while now and it feels like the right time to share them. I'm in my oils."
Bankside's EFM slate also includes John Butler's Papi Chulo, Rudolph Herzog's How To Sell A War, Peter Strickland's In Fabric, Rowan Athale's Strange But True, Lee Cronin's The Hole In The Ground, and Silas Howard's A Kid Like Jake, which premiered at Sundance In January.