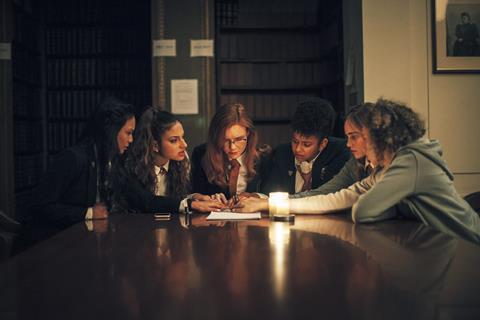 Screen can reveal a first look at Suki Waterhouse and her co-stars in teen horror Seance.
Dark Castle Entertainment and HanWay Films represent the worldwide rights and are discussing the project with buyers at the European Film Market in Berlin this week.
The film, which marks the feature directorial debut of You're Next writer Simon Barrett, is now in post-production having completed shooting on location in Canada.
It is led by Waterhouse, star of Pokémon Detective Pikachu and Assassination Nation, who plays the new girl at the prestigious Fairfield Academy for Girls. She becomes drawn into the mystery of a student who died following a seance summoning the legendary Fairfield Ghost, only to find her classmates being killed off one by one.
The cast also includes Inanna Sarkis, Ella Rae Smith, Madisen Beaty, Seamus Paterson.
The film is financed by Dark Castle Entertainment, HanWay Films and Ingenious Media. The project marks HanWay's third collaboration with Barrett after You're Next and The Guest, which were both directed by Adam Wingard.
Producers are John Schoenfelder, Russell Ackerman, Tomas Deckaj, Alex Mace and Matthew Baker.
Executive producers are Hal Sadoff, Peter Watson, Marie-Gabrielle Stewart, Daniel Negret and Andrea Scarso.