Beyond Disney and the franchise behemoths, original stories, homegrown titles and nimble business models are giving the UK's independent distributors reasons to be cheerful.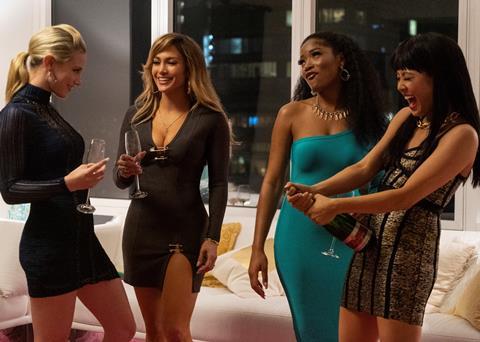 While Disney achieved its spectacular success in 2019 by super-serving audiences a diet of sure things, many of its competitors have found that risk-taking has been better rewarded than safe-seeming conventional thinking.
The success of Sam Mendes's 1917 has been particularly good news for UK distributor eOne. While the film's seven Bafta wins and three Oscars are noteworthy, UK cinema operators are more focused on its contribution to a reviving UK exhibition sector — at £39.2m ($50.7m) in its first six weeks of play, 1917 achieved the highest total for a January release since Les Miserables in 2013, helping to propel overall the month's box-office grosses by 24% year-on-year.
While eOne secured 1917 through its output deal with Amblin, its success could not be more timely for UK managing director Kezia Williams: she must count as one of her tasks ensuring new owners Hasbro continue to see a clear upside in UK film distribution beyond the Peppa Pig franchise that was the primary motivator for acquisition. (eOne and Williams declined to comment.) A gratifying aspect of 1917's success is that the film represented a risk — few First World War films have done very well at the box office apart from War Horse, which had the advantage of an existing underlying property. Big rewards in this industry tend to come with big risk-taking, as hopefully Hasbro will understand.
Further cases in point include Paramount, which could not have anticipated its expensive Will Smith sci-fi action film would barely gross more at UK cinemas in 2019 than a low-budget drama from debut filmmaker Rapman. The latter, Blue Story, took £4.5m ($5.8m) to Gemini Man's £4.7m ($6.1m).
And STX, which has struggled to deliver consistent box office since entering the UK theatrical market in 2017, enjoyed its biggest hit to date in Lorene Scafaria's Hustlers with £7.6m ($9.8m) at the end of 2019 – disproving any conventional wisdom that Jennifer Lopez was no longer a box office draw. Significantly, STX recently renewed its output deal with Amazon Prime Video and retained the UK theatrical window for those titles, unlike in France where it has decided to release them straight on the streaming platform.
Meanwhile Lionsgate UK achieved its top box-office result in 2019 with Rian Johnson's Knives Out (scoring with a rare original story in the whodunnit genre) and in 2020 is enjoying success with Armando Iannucci's The Personal History Of David Copperfield, which made £5.7m ($7.4m) after four weeks of release. While a period literary adaptation may seem like a relatively safe bet, Charles Dickens has been fairly modest at the UK box office in recent years, with versions of Great Expectations, Oliver Twist and Nicholas Nickleby all taking less than half of Iannucci's film. Only Robert Zemeckis family animation A Christmas Carol, with Jim Carrey, scored big numbers.
"Cinema needs to be something now audiences can't see at home," says Zygi Kamasa, chief executive of Lionsgate UK. He notes The Personal History Of David Copperfield's irreverent tone and colour-blind casting. "What we're trying to do with a lot of our British movies is just a little bit of edge, a little bit of difference."
Curzon acquisition
Observers are also waiting to see how Cohen Media Group's purchase of Curzon Artificial Eye plays out. Cohen has bought the arthouse distributor-exhibitor at a time of flux for the company, as it seemingly reconsiders its day-and-date release model in the face of antipathy from one key exhibitor, the Cineworld-owned Picturehouse chain.
Since the start of 2019, Picturehouse has stuck to its 16-week theatrical-window model for narrative features and refused to show any of Curzon's releases outside of film festivals and single-night events. This strategy will have dented the box office of Curzon titles including Joanna Hogg's The Souvenir and, having dominated the arthouse foreign-language space in the UK for years, Curzon's top foreign-language title of 2019 was Paolo Sorrentino's Loro, with just £183,000 ($240,000) at cinemas.
With the release of Bong Joon Ho's Oscar-winning Parasite, Curzon handed the title over to Studiocanal to book into cinemas, in order to access that distributor's pay-TV deal. The film is playing with a full 16-week window, including at 25 Picturehouse sites, as well as the main multiplex chains, which likewise operate a windows policy. After just 10 days, the South Korean genre-bender has grossed a stunning £5.1m ($6.6m), overtaking Amélie to become the third-biggest foreign language film of all time at the UK box office, behind only The Passion Of The Christ and Crouching Tiger, Hidden Dragon.
That outcome surely calls into question Curzon's default day-and-date strategy and may lead to some interesting conversations between Curzon CEO Philip Knatchbull and Cohen Media Group. "It just feels there are missed opportunities there to be so militant about this," offers another distributor.
Speaking to Screen last week, Knatchbull commented, "There's a misunderstanding about Curzon's strategy in regards to day-and-date releasing, the purpose of which is to combine marketing spend across theatrical and home entertainment – one targeted campaign to reach a larger audience and try to encourage different viewing habits."
He added, "We're taking each film as it comes, deciding what's best for it in the current marketplace and then delivering it on that basis to maximise the economic return."
While the challenges for UK independent distributors remain evident — Thunderbird Releasing, which released the last Palme d'Or winner before Parasite, Hirokazu Kore-eda's Shoplifters, retreated from the theatrical market last summer — these have not stopped players such as Zak Brilliant's Republic entering the fray, enjoying success with the release of For Sama at £143,000 ($184,000).
Republic aims to offer "a dual business", says Brilliant, which he defines as "boutique distribution/theatrical servicing". An example of the latter was a brief UK theatrical window last November for Sundance hit Brittany Runs A Marathon on behalf of Amazon Prime Video.
"I'm calibrated to the market," explains Brilliant. "Because I don't have 20 people in a room, I don't have the pressures that more traditional established independent distributors have. I'm a very small operation that scales up and down as required."
Citing Bulldog, 606 Distribution and Modern Films, the latter headed up by former Soda Pictures exec Eve Gabereau, Brilliant says opportunities exist now for "plucky indies" to have a go. "Because of shifts in the UK market in the last couple of years, valuations on content have tumbled dramatically," he says. "The UK MG [minimum guarantee] is probably worth 25% of what it was two to three years ago. With that comes opportunity."
Faith in homegrown talent
One noted feature of the slates for medium-sized UK distributors in 2020 is a focus on local product. The once-prolific Studiocanal, which had a relatively quiet 2019, achieving a UK theatrical market share of just 1.1% (down from 2.6% in 2018), has long been retreating from acquisitions of US films. The 2020 slate is very dominated by British titles, from ambitious family fare such as Heyday Films' The Secret Garden and Blueprint Pictures' A Boy Called Christmas, to smaller-scale indie offerings such as Harry MacQueen's Supernova, Will Sharpe's Louis Wain, Edward Hall's Blithe Spirit and acquisition Saint Maud.
Lionsgate UK, likewise, is putting its faith in homegrown talent, and is offering seven British films this year, including likely breakout hit Military Wives, and Francis Lee's Ammonite, starring Kate Winslet and Saoirse Ronan. Bankable UK stars are a feature of Lionsgate's 2020 slate, including Judi Dench, Benedict Cumberbatch, Olivia Colman and Emily Blunt.
"I buy less movies in the open marketplace," comments Kamasa. "A movie like Magic Mike, which we bought for the UK back in 2011, they're like gold dust trying to find those in the open marketplace now. So that's why you have to be slightly more proactive in the current world. We have found our niche with British movies."