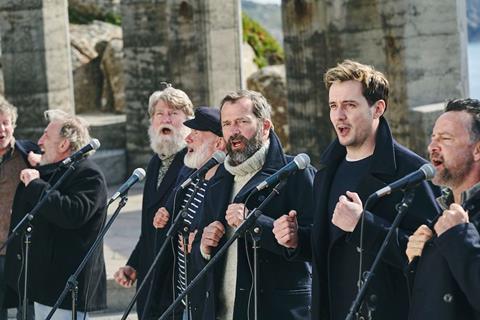 Principal photography is underway in Cornwall on Fisherman's Friends 2, the sequel to the 2019 box office hit about a sea shanty singing group, with several of the cast from the first film confirmed to return.
James Purefoy is back in the role of Jim, with Maggie Steed, Dave Johns, Sam Swainsbury, Jade Anouka and David Hayman also reprising their parts. New cast members include Richard Harrington as new band member Morgan, Ramon Tikaram, Joshua Maguire, and Irish singer-songwriter Imelda May in her debut acting role.
Daniel Mays, Tuppence Middleton and Noel Clarke, cast members from the first film, will not be returning for the second outing.
UK-based sales firm Legacy has boarded worldwide rights on the sequel, with Entertainment Film Distributors (EFD) taking up the UK-Ireland release again, currently scheduled for 2022.
The film had been scheduled to shoot in summer 2020, with production put on hold due to the pandemic.
Fisherman's Friends 2 is written by the trio behind the first film - Piers Ashworth, Meg Leonard and Nick Moorcroft, with Leonard and Moorcroft directing.
Based on a true story, the film continues the voyage of the 'buoy band' of singing fishermen a year after the events of the first film, as they navigate fame, second album syndrome, and performing on the Pyramid Stage at Glastonbury music festival.
Also returning to produce is James Spring for the Fred Films, with Leonard and Moorcroft as executive producers for UK outfit Flying Fish, alongside Deepak Sikka, Helene Theodoly, Purefoy, and Nigel Green of EFD.
The film is part of a three-year output deal Flying Fish and EFD signed last month, which also includes the upcoming biopic of the late UK charity fundraiser Tom Moore.
EFD released the first film in the UK and Ireland in March 2019, opening at number two at the box office and grossing an impressive £7.4m total in the territory.