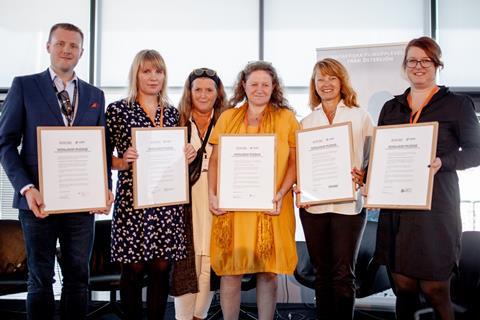 Five Nordic film festivals – CPH:DOX – Copenhagen International Documentary Film Festival (Denmark), Oslo Pix (Norway), Tampere Film Festival (Finland) and Northern Wave Film Festival (Iceland) – have signed the 5050 by 2020 Gender Parity Pledge at the Carl International Film Festival and Carl Film Forum in Karlskrona, Sweden today (Monday August 26).
The signing was initiated by Women in Film and Television Nordic. By signing, the festivals commit to increase gender equality in programming as well as within their organisations by 2020. The pledge has previously been signed by festivals including Cannes, Venice, Toronto, Locarno and Berlin.
Present for today's signing were:
Henrik JP Åkesson, festival director, Carl International Film Festival
Tine Fischer, festival director, CPH:DOX
Ingebjørg Toregsen, president of WIFT Norway, representing Oslo Pix
Jenni Koski, president of WIFT Finland, representing Tampere Film Festival
Dögg Mósesdóttir, festival director, Northern Wave Film Festival
Helene Granqvist, president of WIFT Sweden & WIFT International
Fischer said, "When it comes to structural and political change I believe in data and transparency and I believe in commitment and collective awareness; but before anything I believe in action! So much can be changed and it doesn't need to take forever. Don't wait for film schools, funding institutions, production companies and audiences to change. Move it. Most festivals are due to their organizational structure in a position to create fast structural change with major impact. We should definitely take that responsibility very seriously."
Åkesson added, "We are very honoured to be the host of this important initiative and to gather such a great selection of Nordic festivals to sign the Collectif 5050X2020. In the Nordics countries we consider ourselves good at gender equality, but we still have a lot to work to do, especially within the realm of film and film festivals. This initiative is important for this endeavour."
The Carl Film Forum has a number of other gender equality-themed sessions planned this week, including Dr. Susan Liddy of the University of Limerick discussing her research about gender issues in script development and production; and a WIFTI talk by Stockholm University's Maria Jansson about "gender and legitimacy in film."
Other speakers at the Forum include CAA agent Maren Olson and producers Helena Danielsson and Kristina Åberg.