EXCLUSIVE: Production underway in UK on next iFeatures film, its first period drama.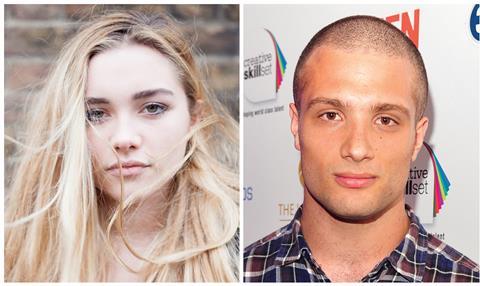 Principal photography is underway on this year's first iFeatures film Lady Macbeth, which will star Florence Pugh (The Falling).
Theatre director William Oldroyd makes his feature debut on the 19th Century period drama.
Singer-songwriter and former Screen Star of Tomorrow Cosmo Jarvis (Spooks: The Greater Good) will play opposite Pugh while supporting cast includes Christopher Fairbank (Guardians of the Galaxy), newcomer Naomi Ackie and Paul Hilton (Wuthering Heights).
Lady Macbeth centres on Katherine, a young woman brought up in the wilds of Northumberland, who finds herself childless and friendless, stifled by her marriage of convenience to a rich local industrialist twice her age.
Tired of the vast house she shares with her detached husband and father-in-law, Katherine's interests become piqued by Sebastian, a worker on her husband's estate. Sebastian unlocks a fearsome passion in Katherine. As their illicit affair begins to sour, Katherine's primal nature emerges with such force that Sebastian's elation is soon tempered, realising that she will stop at nothing to keep hold of him.
The script is written by up-and-coming playwright Alice Birch, winner of the 2014 George Devine Award for Most Promising Playwright.
Lady Macbeth is the first feature produced by NFTS graduate Fodhla Cronin O'Reilly of Sixty Six Pictures, whose short Head Over Heels earned an Oscar nomination in 2013.
Costume design is by Holly Waddington (The Man From U.N.C.L.E) and cinematography by DOP Ari Wegner, who won the Special Jury Prize at Venice in 2013 for Ruin. Production design is helmed by BAFTA Award-winning Jacqueline Abrahams (The Lobster).
Associate producer duties are taken on by Pete Smyth (Bright Cold Day Films), with executive producers Lizzie Francke for BFI, Steve Jenkins at BBC Films, and Christopher Moll and Christopher Granier-Deferre at Creative England.
Filmed on location in County Durham, the four-week shoot will wrap on Oct 17, with release slated for 2016.
iFeatures, funded by Creative England, BBC Films, BFI and Creative Skillset, supports low budget filmmaking in the UK with the aim of developing up and coming talent and telling strong regional stories.
Recent festival successes for the initiative have included Guy Myhill's The Goob, which world premiered in Venice.
Other films greenlit for production in the third iteration of the programme, are The Levelling and Apostasy.
Christopher Granier-Deferre, executive producer, iFeatures, Creative England said: "Kicking this slate off with a period piece demonstrates how exciting and ambitious this initiative has become. It's an incredible team - I can't wait to see the results of their hard work".