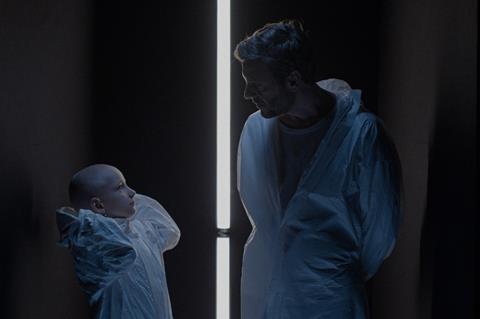 The new feature by Gabriel de Achim and Sebastian Mihailescu' debut documentary feature are among the new projects being presented to sales agents and festival programmers in the Closed Screenings industry strand of the Transilvania International Film Festival this week.
De Achim's Snowing Darkness, which is produced by Anca Puiu and Smaranda Zarnoiau of Bucharest-based Mandragora, centres on a film director living through the traumatic experience of the death of his young daughter.
The director said the film "arose from a personal depression I thought I'd never overcome, but also from literary influences, the work of Turkish novelist Orhan Pamuk and the poems of Swedish poet Tomas Tranströmer."
Mihailescu's documentary You Are Ceaucescu To Me is an experimental blend of documentary and fiction about a group of young people aged between 15 and 22, auditioning for the role of young Nicolae Ceaușescu in the mid-1930s - an unknown period of the dictator's life - and the behind-the-scenes drama taking place.
"The result is a portrait of this young generation, and a glimpse of Romania's Communist leader's legacy, a hundred years after his birth," said producer Claudiu Mitcu of We Are Basca.
Mihailescu is also preparing his fiction feature debut Double Happiness which was pitched at the 2020 edition of the When East Meets West co-production forum in Trieste. Diana Paroiu of microFILM - which was set up by Ada and Alexandru Solomon in 2012, said principal photography is set to begin this autumn.
The Closed Screenings also include actress-screenwriter Alina Grigore's directorial debut Blue Moon which is described by the film's producer Inlight Center as "a psychological drama that involves family, sex and a little bit of blood".
The film stars Ioana Chitu, Ioana Flora, and Vlad Ivanov and has been selected to screen in competition at the San Sebastian Film Festival in September.
There was also an invitation-only screening of Octav Chelaru's Balaur, produced by Radu Stancu's deFilm with Germany's 42 Film and Serbia's EED Productions.
The drama about the relationship between a teacher and her 16-year-old pupil had been presented at various pitching workshops including the Transilvania Pitch Stop, CineLink Co-Production Market, Midpoint Feature Launch and invited to attend Renate Roginas' Villa Kult Residency during the 2017 Berlinale.
TIFF is taking place at Cluj in Romania until August 1.