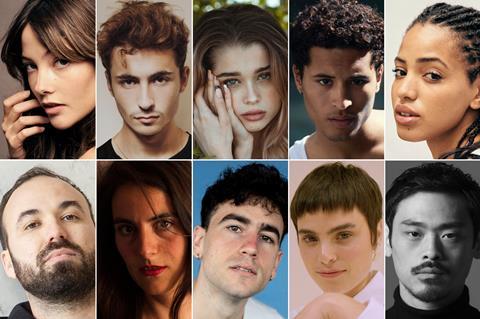 Spain Stars of Tomorrow, the newest edition of Screen International's long-running talent-spotting series, has revealed the list of 10 rising actors and filmmakers from Spain, all with the potential for breakout international careers.
Scroll down for the full list
The list of rising talents was unveiled at the opening of the Atlantida Mallorca Film Fest (AMFF), which is the headline sponsor for Spain Stars of Tomorrow. The initiative is also supported by the Spain Film Institute (ICAA).
"For over a decade, the AMFF has focused on and cared for emerging talent through its programme in Mallorca, and [arthouse streaming platform] Filmin has had its eye on the most exciting debuts in Spanish cinema," said Jaume Ripoll, director of Atlantida Mallorca Film Fest and co-founder and head of content, acquisitions and development at Filmin.
Launched in 2008, Spanish SVoD platform Filmin offers a wide range of independent, arthouse and classic features as well as running the AMFF.
"It is an honour that our festival has been chosen to partner with Screen International on the first Spain Stars of Tomorrow," Ripoll added. "We are very happy to welcome the Stars. They will be able to enjoy the festival's programme of international releases, concerts, and have the chance to get to know how the main VoD companies in Europe are working, and to explore the projects in development at the Mallorca Talents Lab."
Matt Mueller, editor of Screen International, said: "Screen International is delighted to be partnering with Atlantida Mallorca Film Fest and Filmin on this inaugural edition of Spain Stars of Tomorrow. Stars of Tomorrow is an initiative we are extremely proud of, and we hope this is the first of many Spain Stars of Tomorrow showcases to come."
Screen International has a well-regarded track record of spotting talent in its long-running UK & Ireland Stars of Tomorrow edition including some of today's biggest names in film and television, many of whom have gone on to become multiple Bafta and Oscar winners and nominees.
From Emily Blunt and Benedict Cumberbatch in the inaugural selection in 2004, Phoebe Waller-Bridge and Taron Egerton in 2014, Florence Pugh and Jodie Comer in 2016, to Himesh Patel in 2019 and Emma Corrin and Ncuti Gatwa in 2020, Screen International's UK & Ireland Stars of Tomorrow alumni are now among the leaders of the global industry.
Screen's Arab Stars of Tomorrow initiative was launched in 2016 and has showcased talents including Moroccan filmmaker Alaa Eddine Aljem, Lebanese director Mounia Akl and Palestinian actress Maria Zreik.
The Spain Stars of Tomorrow are taking part in a presentation event at the Atlantida Mallorca Film Fest which runs from July 26-August 1. They will be in conversation with Elisabet Cabeza, Screen's Spain correspondent, who has curated the list of Spain Stars of Tomorrow and is also attending the AMFF.
An online video summary of the introduction of the Stars will be available on Screendaily.com from July 30 and a special Spain Stars of Tomorrow print edition will be published and distributed at the San Sebastián Film Festival.
Elisabet Cabeza said of this first selection: "At a time when Spain is catching the eye of the international industry drawn by the potential of the Spanish-speaking market and the local talent, it is an honour to have the chance to choose these 10 rising stars. They have all taken their first steps either in powerful VoD streamer platform productions or in indie features and are poised to make an impact on the international industry."
Screen's Spain Stars of Tomorrow 2021
Actors
Filmmakers
Photo credits, clockwise from top left: Andres Garcia Lujan, Carolina Kowarik, Vico Vang, Marc Zareta, Andres Garcia Lujan, Sergio Lardiez, Daniel Mills Salcedo, Nacho Lopez, Valerie Massadian, Luis Diaz