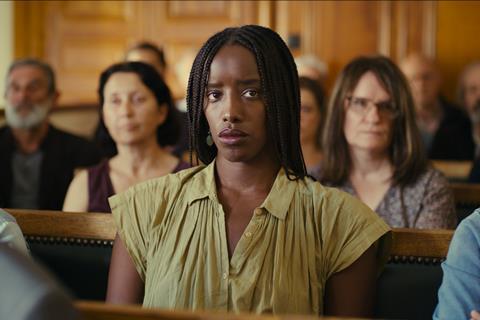 France is hoping to break a 30-year barren streak and has selected Alice Diop's Saint Omer to represent the country in the best international feature film category for the 95th Academy Awards.
The film was announced by the CNC on Friday evening (September 23) after a day of deliberations by a recently revamped selection committee who chose it from a shortlist of titles that also included Mia Hansen-Løve's One Fine Morning, Alice Winocour's Paris Memories, Eric Gravel's Full Time, and Lise Asoka and Romane Gueret's The Worst Ones.
Saint Omer premiered in Venice where it won the Silver Lion Grand Jury prize and the Luigi De Laurentiis Lion of the Future award. It went on to play at TIFF and has been acquired for the US by Neon's boutique label Super.
It is the first narrative feature from Diop and centres on a young novellist following the trial of a Senegalese immigrant accused of murdering her daughter. Inspired by a true story, the film stars Kayije Kagame, Guslagie Malanda, Valérie Dréville and Aurélia Petit.
Distributed by Les Films du Losange, Saint Omer will be released in France on November 23. Wild Bunch International is handling global sales. Following its North American premiere at TIFF, the film will screen at the New York Film Festival on October 3 with Diop on hand for Q&A's on October 3 and 4.
CNC President Dominique Boutonnat congratulated Diop on Friday evening, calling Saint Omer "a powerful film, emblematic of the renewal of French cinema". The film notably received CNC support.
Acccording to the CNC, 33 features were submitted to the pre-selection process this year. The committee made headlines when it underwent a shake-up, ousting former committee member Thierry Fremaux and inviting international sales agents Hengameh Panahi, Grégoire Melin, producers Philippe Rousselet, Didar Domehri, directors Jacques Audiard and Michel Gondry and veteran Gaumont executive Ariane Toscan du Plantier to weigh in with their votes.
Last year, Palme d'Or winner Julia Ducournau's Titane earned the coveted submission slot instead of Audrey Diwan's Venice winner Happening, which outraged much of the local industry who felt Happening would have stood a better chance of winning.
Notably absent from the contenders is Romain Gavras' Netflix title Athena that bowed in Venice. Only feature films with a release in France between January 1 and November 30 this year in a majority language other than English (though not necessarily in French) were eligible.
While the country famed for its "seventh art" form has sent some notable exports into the Oscars race in recent years from The Artist to Marion Cotillard, France hasn't won the international film category Academy Award since Régis Wargnier's Indochine in 1993.
Of the last 10 French international Oscar submissions, only four made the final shortlist, and just two received Oscar nominations. Ladj Ly's 2019 Cannes Jury Prize winner Les Misérables was the last French film to make it through to the final nomination stage for the 2020 awards, but went home empty-handed.
Franco-Algerian director Rachid Bouchareb's Our Brothers has been submitted as Algeria's selection for an Oscar run, though the film is set in a Paris suburb and shot in French. Bouchareb has represented Algeria seven times in the Oscar race, three of which earned nominations in the final category.
While there may be no clear favourite in the international feature film category, several films have already gained momentum after premiering at festivals like Cannes, such as Marie Kreutzer's Corsage, Lukas Dhont's Close, and Park Chan-wook's Decision To Leave.
The 95th Academy Awards will be held on March 12, 2023.