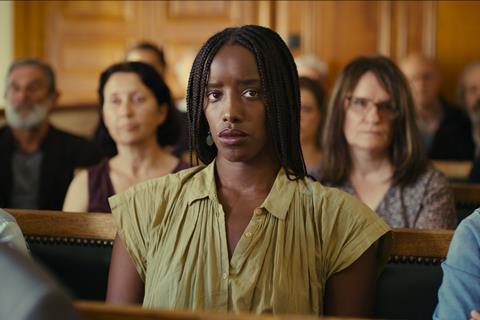 Neon's boutique label Super has acquired US rights to Alice Diop's Venice Silver Lion winner and Toronto selection Saint Omer, one of five films shortlisted for France's international feature film Oscar submission.
Diop's fiction feature debut is inspired by a true story and plays on the Medea mythology about the mother who kills her child. It follows Rama, a young novellist researching her next book, who reflects on her relationship with her mother as she attends the trial of a woman accused of infanticide.
Kayije Kagame, Guslagie Malanda, Valérie Dréville and Aurélia Petit star. The film premiered in Venice where it won the Silver Lion grand jury prize and the Luigi De Laurentiis Lion of the Future Award for best debut feature. It received its North American premiere at TIFF, where it screens again on Saturday and Sunday, and will get its US premiere at New York Film Festival.
Diop co-wrote the screenplay with Amrita David and Marie Ndiaye. Producers are Toufik Ayadi and Christophe Barral of Srab Films alongside Arte France Cinéma and Pictanovo Hauts-de-France.
Mason Speta negotiated the deal on behalf of Super with CAA Media Finance and Wild Bunch International for the filmmakers.
Diop made her directorial debut last year with the documentary Nous (We), which won 2021 Berlinale's Encounters Award.
Super earned its first Oscar nomination with Jasmila Žbanić's Quo Vadis, Aida? Bosnia and Herzegovina's Osar submission. The label also recently released Bianca Stigter's documentary Three Minutes – A Lengthening which premiered at Venice and went on to play at Telluride, TIFF, as well as Tony Stone's Ted K starring Sharlto Copley, and Theo Anthony's All Light, Everywhere.