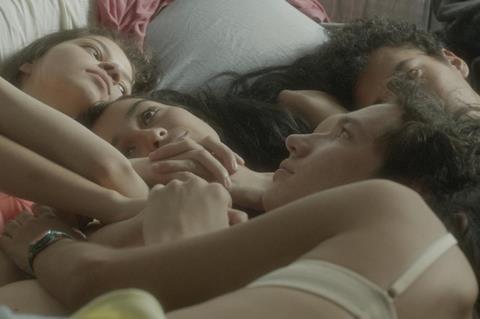 The 37th edition of the Latin American-focused works in-progress meeting Cinema en Construction will take place online this week following its cancellation due to the covid-19 pandemic.
The event was due to unfold as part of the Cinélatino, Rencontres de Toulouse festival in south-west France on March 26-27.
As in previous years, Cinema en Construction will showcase six Latin American projects in post-production.
They include Costa Rican director Paz Fábrega's drama Restless (Desasosiego), about a woman in her 40s and a teenager who are thrown together by the latter's unwanted pregnancy.
It is Fábrega's third feature after Cold Water Of The Sea, which won Rotterdam's Tiger Award in 2010, and Viaje, which premiered at Tribeca in 2015.
The selection also includes Mexican director Rodrigo Plá's El Paso-set English-language feature debut The Other Tom (El otro Tom).
It stars big screen debutant Julia Chavez as a single mother struggling to keep custody of her young son when she refuses to administer psychiatric medication after he is diagnosed with Attention Deficit Hyperactivity Disorder. Plá wrote the screenplay with his partner and long-time collaborator Laura Santullo.
Plá's previous films include La Zona, The Delay and A Monster With A Thousand Heads, which premiered in Venice's Orizzonti sidebar in 2015.
The selection also features two projects from Argentina: Juan Pablo Felix's Andes-set Karnawal, about an adolescent dancer preparing for an important competition against the backdrop of a difficult family life, and Micaela Gonzalo's La Chica Nueva, about a young woman who decides to brave the harsh conditions of the Tierra del Fuego archipelago to get work in its manufacturing sector. Gonzalo's last film All My Joy premiered at the Berlinale in 2018.
Two first features are also in the line-up: Brazilian director João Paulo Miranda Maria's Memory House, about a native man working on a dairy farm in a former Austrian colony in Brazil, and Mexican advertising director Jorge Cuchi's 50 o dos ballenas se encuentran en la playa about two teenagers who bond through a fascination with suicide.
The event has also kept it three key prizes intact comprising the post-production focused Films in Progress Toulouse award, sponsored by a consortium of post-production companies (CCAS, Mactari, Titra Film, French Kiss Studio, Saraband and Eaux Vives Productions); the Cine+ award, guaranteeing the French distributor a pay-TV deal, and the distributor and exhibitor prize given by Europa Distribution and CICAE and offering support on their respective arthouse cinema networks.
Since its launch in 2002, Cinema en Construction has supported 204 films, 27 of which have premiered in Cannes and 20 of which has debuted at the Berlinale.
Last year's selection included Costa Rican director Sofía Quirós Ubeda's Land of Ashes which premiered in Cannes Critics' Week, Uruguayan coming-of-age drama The Sharks (Los Tiburones), for which director Lucia Garibaldi won the best directing award in Sundance's World Cinema - Dramatic competition, and Theo Court's White On White, which premiered in Venice's Orizzonti section winning best director and the Fipresci prize.