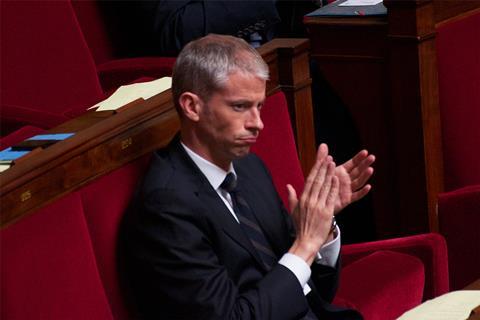 French minister of culture Franck Riester has declared his support for actress Adèle Haenel, following her recent decision to go public with accusations of sexual assault, and outlined a series of measures aimed at tackling sexual violence at an equality and diversity conference in Paris on Thursday.
The minister referred in his speech to both the actress as well as a scandal that has hit the Ministry of Culture over the past week involving an unnamed civil servant who has been suspended following accusations that he drugged some 200 women with a substance that made them urinate in public uncontrollably.
Riester said the revelations of recent days had revealed a patriarchal culture of silence throughout society.
"To all those, like Adèle Haenel, and like all those women who have faced unspeakable violence at the ministry of culture, to all those who have dared to break the silence, I want to say two things," he said.
"Firstly, your voice is necessary, your voice is a weapon… it can help stop others enduring what you suffered… it can make a movement grow and one voice can raise another," he continued.
"Secondly, for all those who have broken the silence, I want to assure you that it is not in vain. Everything starts with prevention. Which is why I have decided that from now on all companies receiving CNC funding must meet certain obligations with regards to preventing and detecting sexual harassment."
He said this measure would be submitted shortly to the CNC board, which would then be charged with defining how these obligations would be implemented in consultation with professionals in the film and TV sectors.
Reister said he was favourable to the idea of companies and organisations being obliged to appoint a reference person, whose responsibility it would be to prevent and detect cases of sexual harassment, whether they take place during day to day business, on set or during promotional campaigns.
Special unit
In addition, the minister said he was also working with the stage, music, television and cinema companies, employers' federation FESAC, the umbrella body grouping all professional organisations in these sectors, on the creation of a special unit to support victims of sexual harassment in these industries. He said he had earmarked funding for the unit so that it become operational from the start of 2020.
Reister was speaking at the second edition of the Parity, Equality and Diversity Conference (Les Assises sur la parité, l'égalité et la diversité), an event launched jointly in 2018 by Le Collectif 50/50, the pressure group and think tank aimed at increasing gender equality in the film industry, and the National Cinema Centre (CNC).
It unfolded this year amid an atmosphere of heightened public debate around the issue of sexual assault and gender equality following actress Adele Haenel's bombshell allegations against filmmaker Christophe Ruggia that he molested her as teenager which were followed a few days later by a public accusation of rape against Polanski. Both Ruggia and Polanski have denied the accusations.
Reister told the gathering: "Talent is not a mitigating circumstance; genius is not a guarantee of impunity. Particularly in your professions, where bodies and intimacy are very often at play, where young talents want to succeed and people take advantage."
Earlier in the day, CNC chief Dominique Boutonnat announced the launch of training workshops for film and TV professionals around the issue of sexual harassment and how to prevent and detect it.
Combating sexual violence
Reister's speech was part of a packed programme of interventions from several professionals across the cinema chain on what they were doing to improve gender equality and/or combat sexual violence.
As part of the event, the CNC unveiled the results of the first year of an initiative, announced at last year's conference, giving a funding bonus of 15% to productions in which the crew were gender equal. It said 29 films had qualified for the bonus so far in 2019, accounting for 20% of the qualifying productions.
In a further key intervention, France Télévisions chief Delphine Ernotte announced the state television network would also be joining the gender equality drive with the introduction of quotas as of 2020 to ensure that more women were in key roles of the programmes it commissioned.
"The focus on a work is often on its creator, or creators, writer, producer, director or 'showrunner' to use an Anglo-Saxon term. These roles are today essentially occupied by men," she said.
She did not give exact details of what the quota would be in its first year of existence but said it would be aimed at boosting the number of female director working on its commissioned programmes, adding that the system would be eventually expanded to ensure all types of social inclusion.