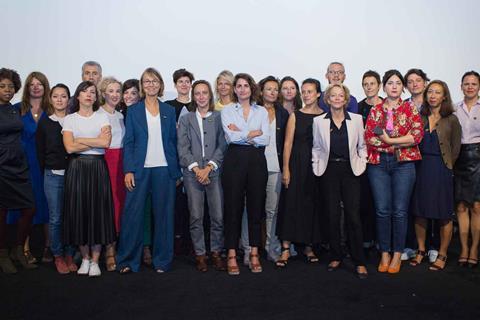 France is set to launch a state funding bonus for productions in which the director and key crew members are women, as part of a drive to improve gender equality in the French cinema industry.
French Minister of Culture Françoise Nyssen announced the new measure during a three-day conference devoted to gender parity, Les Assises sur la parité, taking place in Paris this week (Sept 18-20).
"I believe in financial incentives. When things do not change on their own, or too slowly, it's up to us to change them," Nyssen told the conference.
Nyssen said the new measure would be introduced in 2019 and would operate around an eight-point system, awarding points for the fact that the director as well as key crew members, such as the cinematographer, were female.
A production would be eligible for a bonus of up 15% of its expected state funding allocation once it had achieved at least four points.
It is the first points-based financial incentive aimed at improving gender parity in cinema in Europe.
The scheme will be managed by France's National Cinema Centre (CNC) as part of the country's automatic and selective film production funding schemes.
Nyssen said the scheme would remain in place until parity had been achieved.
CNC president Frédérique Bredin said gender parity was one of her priorities. "Parity is important for me. I am thinking about it all the time, above all when it comes to the commissions and juries, but also with regards to film crews," she said. "We must break the glass ceiling and give young people more examples of female achievement."
According to data released by the French cinema industry pressure group and "action think-tank" the Collectif 5050x2020, under 25% of French features released between 2006 and 2016 were directed by women.
Its research has also shown that female filmmakers have a tough time accessing big budgets.
Other initiatives
Both this week's conference and the new financial incentive are among a raft of initiatives aimed at improving gender parity in the French cinema industry lobbied for and involving the Collectif 5050x2020, which was launched last March.
The group, which took shape around the same time as the MeToo and Time's Up movements sparked by the Harvey Weinstein scandal, has been instrumental in pushing the gender equality agenda in France and on the international festival circuit.
Its other key initiatives include the drawing up of a festivals charter aimed at improving gender parity on the international festival circuit, which it launched in Cannes with first signatures from Cannes delegate general Thierry Frémaux, former Directors' Fortnight artistic director Edouard Waintrop and Critics' Week chief Charles Tesson.
The charter has since been signed by a number of A-list festivals including most recently San Sebastian and Venice, which was heavily criticised this year for its inclusion of just one female-directed feature - Jennifer Kent's The Nightingale in competition.
The Collectif 5050x2020 also spear-headed the silent ascent of the red carpet at Cannes last May by 82 female industry figures, protesting the lack of female representation at the event over its 71 editions and has also been instrumental in calling for documentation around the gender of filmmakers participating in key festivals and winning funding from state bodies and other sources.