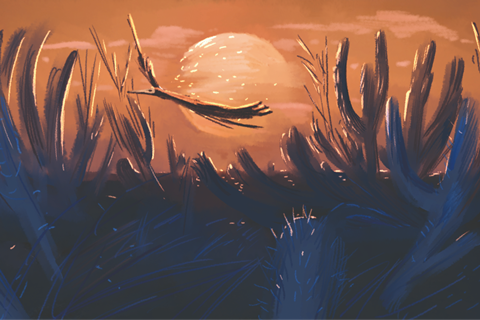 French animation outfit Sacrebleu, a producer of Anca Damian's Annecy and Bucheon award winner Marona's Fantastic Tale, has teamed up at Ventana Sur with Rio de Janeiro-based lead producer Lupa Filmes and Amoria Studio to co-produce The Bird Kingdom.
Brazilian illustrator, comic book artist and shorts filmmaker Wesley Rodrigues (Viagem Na Chuva) will make his debut on the project, which won the top prize at the Argentinan market's Animation! pitching showcase in 2019 and was recently announced as part of the 2023 Annecy Festival Residency.
The Bird Kingdom is set in a fantasy version of the Brazilian Sertão, an arid wasteland where men shapeshift into birds of prey. There, Sete-Penas is taken in as a child by Carcará, an outlaw who aspires to be a local legend. Ten years later, Carcará's bandits, known as cangaceiros, have become notorious throughout the region.
"We were fascinated by the colours and the poetry of the film's graphic universe," Ron Dyens of Sacrebleu told Screen, adding that the company was keen to bring its expertise in 2D animation to the table. "Wesley's work is simply breathtaking. He dives into Brazilian history, its mythology, while drawing on many cultural references and addressing very strong themes of duality and redemption."
The film blends local folklore with the history of the Cangaço, nomadic bands of outlaws that spread throughout Brazil. Producer Anre Pereira of Lupa films (Brazilian horror hit The Trace We Leave Behind), said "the magical realism brings a unique take on our Brazilian heritage with the potential of reaching an adult audience around the world".
Lupa Filmes is presenting revenge thriller Carrion at Ventana Sur's Blood Window Lab this week. The project from Zama art director Renata Pinheiro won the top Bucheon Award at Bifan's NAFF project market in July, which earned Pinherio a trip to the Buenos Aires market to take part in the genre lab.