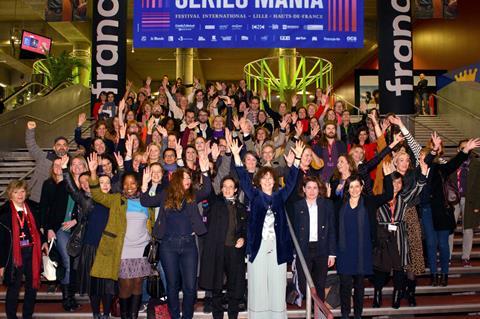 Series Mania, unfolding in the northern French city of Lille (March 22-30), has become the first TV festival to sign 5050x2020 gender equality charter, following in the steps of film festivals such as Cannes, Venice, Toronto, Locarno and Rotterdam.
The festival's founder and director Laurence Herszberg signed the charter during the festival's Series Mania Forum industry programme in the presence of women professional attending the event.
The charter – launched at the last Cannes Film Festival by French gender parity movement 5050x2020 – aims to improve gender equality in the film selections of festivals around the world.
Under the terms of the charter Series Mania has agreed to monitor gender equality internally around salaries, staff roles and the composition of its selection committees as well as in the selection of the series showcased in both the competitive and non-competitive sections of its programming.
Signatories also sign-up to aid transparency within the industry and on the festival circuit by compiling statistics on the gender of professionals involved in series submitted to and selected for the selection.
Herszberg launched Series Mania in Paris in 2010. An expanded and revamped version of the increasingly popular event moved to the Lille in 2018, where it drew some 55,700 spectators in its first year in its new home as well as 2,000 professionals from across the content industries.