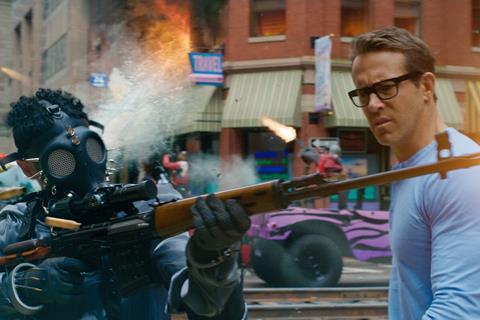 20th Century Studios' Free Guy starring Ryan Reynolds and Jodie Comer came in well above expectations in North America at the weekend as it opened at number one via Disney exclusively in cinemas on an estimated $28.4m.
The result delivered welcome news for the studio and will have pleased exhibition partners. Free Guy is playing in cinemas for 45 days before it migrates to a digital platform. Reynolds said on Saturday the studio wants to make a sequel to the film, which was delayed several times due to the pandemic.
The theatrical-first nature of the release is in contrast to Disney's recent forays into day-and-date distribution, most controversially on Black Widow, which sparked Scarlett Johansson's lawsuit.
Interestingly as Johansson pushes for a higher compensation deal, Emma Stone has reportedly struck a blow for talent. Stone was also said to have been negotiating with the studio over her pay on Cruella – another high-profile film that Disney opened in cinemas the same day it launched on Disney+ Premier Access – and has signed on for a sequel.
That development suggests the studio is willing to cut talent compensation deals in the new world of distribution as CEO Bob Chapek said in last week's third quarter earnings call. The studio has said on more than one occasion that it adopted a flexible release strategy due to the pandemic. However observers agree there is little doubt Covid has accelerated a change that was on the cards in the streaming age and has hastened the reduction in the exclusive theatrical window to around 45 days in North America.
Like Free Guy, Disney is taking the same 45-day theatrical-first approach to Marvel Studios' Shang-Chi And The Legend Of The Ten Rings which opens on September 3. That film's star Simu Liu took to social media over the weekend to object to Disney CEO Bob Chapek's remarks that the release as an "experiment".
Free Guy box office increased by 24% from Friday to Saturday, which Disney said was the largest such increase by any tentpole this summer excluding Thursday previews. Premium formats, including 3D, accounted for 29% of business through Saturday.
Warner Bros' Suicide Squad, which opened top last weekend and is also available on HBO Max, tumbled 70% in its second session despite broadly excellent reviews. Speculation is ongoing as to whether this is another example of genre fans packing cinemas on opening weekend, the film's availability at home, or a combination of both. The comic book adaptation added $7.8m for $42.9m and fell four places to number five.
Two new releases broke into the top five. Placing second was Sony's horror Don't Breathe 2 on $10.6m from 3,005, while MGM/UA's Aretha Franklin biopic Respect starring Jennifer Hudson opened in fourth on $8.8m from 3,207 sites.
Disney's Jungle Cruise ranked third after a 43% drop in its third session resulting in a $9m weekend and $82.1m running total. Universal's M Night Shyamalan horror Old ranks sixth on $42.9m after four weekends, while in its sixth weekend Black Widow in seventh place added $2m after a 49.1% drop for $178.2m.
Focus Features' Stillwater starring Matt Damon, which premiered out of competition in Cannes, fell three to number eight on $1.3m for $12.5m in its third session.
Starting on Tuesday (August 17) patrons of indoor cinemas in New York City will have to show proof of a vaccine to enter venues Similar measures are already in place in New Orleans, come into effect in San Francisco on Friday (August 20), and are on the books in Los Angeles. The industry will be watching closely to see how this impacts cinema-going in the markets, including two of the biggest in the United States, at a time when the spread of the Delta variant is increasing hesitancy among cinema-goers.