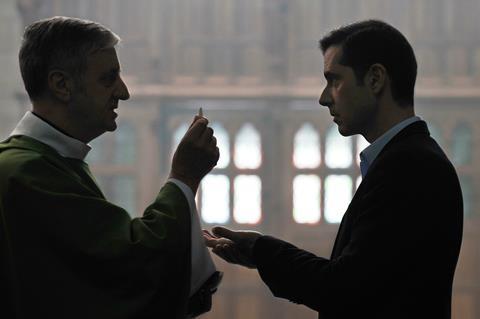 François Ozon's Catholic church sexual abuse drama By The Grace Of God will hit French cinemas as scheduled this week after a court rejected a request by the lawyers of the real-life priest at the heart of the tale to delay its release.
The film, which won the Berlinale Silver Bear on Sunday, will be released by French distributor Mars Films on some 300 screens across France on Wednesday (Feb 20).
Melvil Poupaud, Denis Ménochet and Swann Arlaud co-star as three men who band together to expose their abuse by a family priest after they discover, years later, that he continues to be in close contact with children and teenagers.
The film is inspired by the case of Father Preynat, a Catholic priest, based in the diocese of Sainte-Foy-lès-Lyon, outside the city of Lyon, who was indicted in 2016 for molesting more than 70 boy scouts in the 1980s and 90s.
Preynat is due to be tried later this year. His lawyers argued that the release of the feature could impact the outcome of his trial and that it should be delayed until after the trial.
When the release date for the film was set last year, distributor Mars Films and producers Eric and Nicolas Altmayer at Paris-based production house Mandarin Cinema believed the trial would have taken place.
Lawyers for the production said the move to block the film was ill-founded on a number of counts.
They argued that firstly, all the facts in the film were already out in the public domain, and secondly, that the storyline was focused on the experiences and emotions of the three victims, rather than whether Preynat should be judged guilty or innocent.
They added that Preynat has already publicly recognised his guilt on a number of occasions.
Ozon and the Altmayers have described the move to block the film as an attack on "freedom of expression".
Cases like this are extremely rare. The last feature to have its release delayed in France because it was feared it could influence the outcome of a trial was Claude Chabrol's 1973 drama Red Wedding, which was inspired by real-life lovers accused of killing their respective partners.
The film's release was put back by two weeks until after the end of their trial.