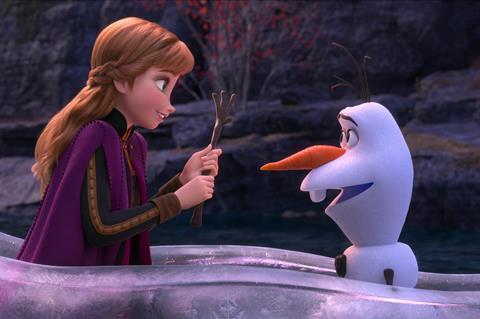 Disney Animation Frozen 2 has held its lead of digital download sales in the UK, with audiences continuing to look to home entertainment during the coronavirus crisis.
The animated sequel recorded 110,00 downloads in its second week, bringing its total to 328,900 and earning a place in the fastest-selling digital download films of all-time in the UK.
It is just 88,000 sales behind all-time leading title Avengers: Endgame but has surpassed Avengers: Infinity War, Bohemian Rhapsody, The Greatest Showman and Joker (records began in 2017).
The strong performance follows the continued closure of all cinemas in the UK, in a bid to slow the spread of Covid-19, and a nationwide lockdown.
Smaller streaming platforms, including Curzon Home Cinema and MUBI, have also continued to report record figures.
The Official Film Chart: Top 10 (April 1, 2020)
Frozen 2 (Disney)
Le Mans 66 (20th Century Fox)
Knives Out (Lionsgate)
Bloodshot (Sony Pictures HE)
Charlie's Angels (Sony Pictures HE)
Joker (Warner Home Video)
Midway (Lionsgate)
Terminator: Dark Fate (20th Century Fox)
Downton Abbey: The Movie (Universal Pictures)
21 Bridges (STX Entertainment)
Source: Official Charts Company 2020