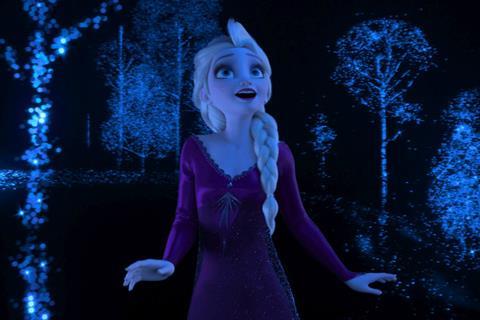 Disney sequel Frozen II has passed 500,000 UK home entertainment sales, as it held top spot on the British Association for Screen Entertainment's Official Film Chart for a third week.
It added 201,000 sales on its previous week, 78% of which were on disc, and has now sold 530,300 copies in total.
The film also appeared at number nine on the chart, as part of a two-feature deal with the first film, 2013's Frozen.
Last month Frozen II had the second-biggest ever digital debut in the UK, with 218,700 digital downloads on its first week.
The highest new entry was another sequel, Sony's Jumanji: The Next Level, which reached the number two spot through digital downloads alone.
The film had grossed £36.4m and was still playing in select UK screens when the government ordered the closure of all cinemas on March 20 due to the spread of coronavirus.
Further down on the chart, Knives Out and Bloodshot held their positions at three and four for a second week, while Le Mans '66 dropped three places to five.
Digital releases in the next week include Blue Story, the debut feature from Screen Star of Tomorrow 2019 Rapman, which proved a hit at the UK box office in grossing £4.5m.