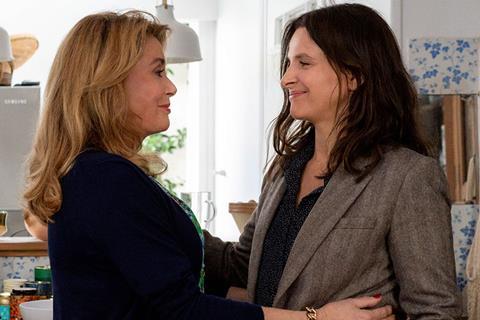 Hirokazu Kore-eda's The Truth has retained its lead as the most-watched title on Curzon Home Cinema (CHC) as the UK streaming platform prepares to strengthen its schedule of new releases.
The Truth, starring Catherine Deneuve and Juliette Binoche, held the top spot on the platform for the third consecutive weekend. It is on track to overtake CHC's most successful title to date, Celine Sciamma's Portrait Of A Lady On Fire, as audiences continue to seek out new releases at home due to the closure of cinemas in the wake of the Covid-19 outbreak.
But while income from April 3-5 was up 247% on the equivalent weekend in 2019, there was a 24% drop on the previous record-breaking weekend due to a dip in availability of new premium VOD titles.
Curzon has now reshuffled its release schedule to ensure a steady stream of new titles will be available on the platform in the coming months, throughout the ongoing nationwide lockdown.
This will see the release of Safy Nebbou's Who You Think I Am, also starring Binoche, moved up a month from May 8 to this Friday (April 10). It was previously set for a theatrical release through Curzon Artificial Eye.
Also shifting dates in the release calendar is Corneliu Porumboiu's Cannes 2019 Competition title The Whistlers, which will move up seven weeks from June 26 to May 8. Other upcoming releases include Oliver Hermanus' Moffie, which will debut on April 24, and Grimur Hakonarson's The County on May 22.
Curzon's new series of live-streamed Q&As will continue on Thursday (April 9) with Vivarium star Jess Eisenberg and director Lorcan Finnegan, speaking from their own self-isolation spaces.
CHC's top 10 titles for April 3-5 were:
The Truth (2019)
Portrait Of A Lady On Fire (2019)
Knives Out (2019)
Sulphur And White (2020)
The Perfect Candidate (2019)
Military Wives (2019)
Vivarium (2019)
And Then We Danced (2019)
Fire Will Come (2019)
System Crasher (2019)
MUBI, BFI Player top titles
UK-based MUBI, which operates as an international streaming platform and distributor, said it continued to see subscriber growth as audiences further turn to home entertainment but declined to share exact figures.
MUBI's top 10 for March 30 to April 5 were:
Sympathy For Mr Vengeance (2002)
Le Doulos (1962)
Coffee And Cigarettes (2003)
Mustang (2015)
Bacurau (2019)
The Proposition (2005)
Oldboy (2003)
The Daughters Of Fire (2018)
The Silence (2019)
Sisters (1972)
While the British Film Institute does not reveal figures for its streaming platform, BFI Player, it did share the most-watched titles from March 30 to April 5:
Subscription
Bait (2019)
Paris, Texas (1984)
Society (1989)
Aniara (2018)
Ask Any Buddy (2020)
Theo And Hugo (2016)
Don't Look Down (2019)
T11 Incomplete (2020)
8 ½ (1963)
King Of New York (1990)
Rentals
Knives Out (2019)
And Then We Danced (2019)
Vivarium (2019)
End Of The Century (2019)
Harriet (2019)
The Street (2019)
I Am Love (2009)
Mr. Jones (2019)
Pain And Glory (2019)
The Perfect Candidate (2019)