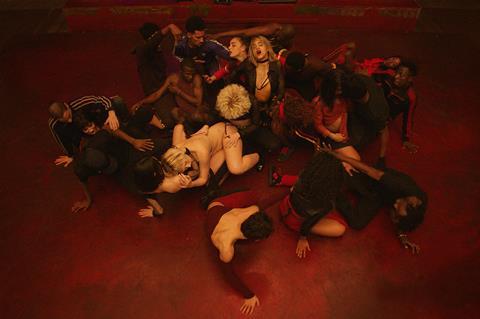 Climax, the dance/horror hybrid from Argentine director Gaspar Noé, has won the H.R. Giger Narcisse award for best international feature at the 18th Neuchatel International Fantastic Film Festival (NIFFF).
At the NIFFF awards ceremony on July 14, international jury president David Cronenberg presented the award to Noé, along with the prize of 10,000 Swiss francs ($10,000) from the City of Neuchatel.
The film also received the Silver Méliès nomination for best European fantastic feature film, and is nominated for the Golden Méliès, which will be chosen in October at Sitges Film Festival by the European Fantastic Film Festival Federation (EFFFF).
Climax received its world premiere in Directors' Fortnight at Cannes this year; Screen's review described it as 'a blazingly original, extremely disturbing film that's something quite new'.
The international Critics award went to Nicolas Pesce's Piercing, which also picked up the Imaging The Future award for best production design.
David Robert Mitchell's Under The Silver Lake, another Cannes world premiere, received the youth award in the international competition, while Nattawut Poonpiriya's Bad Genius picked up the best Asian feature prize in the Asian competition.
This year's event, the 18th edition of the festival, screened over 150 films including 104 features, to 44,000 attendees, an increase from 2017's total of 42,000.
NIFFF has also put out a call for projects for its Future Storyworld VR tour, a series of events aimed at promoting writing on the themes of utopia and sustainable development. The tour will receive an official launch in September.
Neuchatel award winners
H.R. Giger 'Narcisse' award for best feature: Climax
Silver Méliès for best European fantastic feature film (nomination): Climax
International Critics award: Piercing
Imaging The Future award for best production design: Piercing
Youth award: Under The Silver Lake
Asian feature film award: Bad Genius
Audience award: Kasane
Outside the Box award for national distribution: Cómprame Un Revólver