Gaspar Noé returns with an uncompromising street dance/horror hybrid.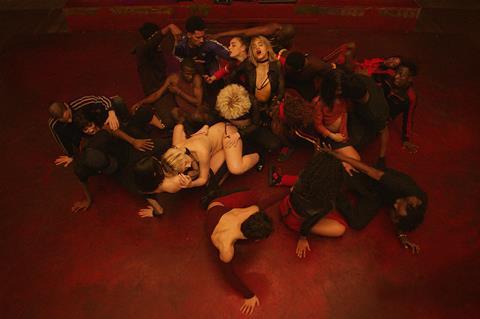 Dir. Gaspar Noé. France. 2018. 95 mins
France's wave of Extreme Cinema was getting suspiciously quiet recently, and even the movement's figurehead Gaspar Noé seemed to have mellowed – his 2015 3D sex film Love coming across more as a depressive mope than the confrontational number that was expected. Rest assured that French cinema's imp of the perverse has got his distinctly nasty mojo working again with Climax, a blazingly original, extremely disturbing film that's something quite new – a psychotropic street dance movie that turns into an orgiastic horror trip.
An extraordinarily intense experience that seems at once to revel in and deprecate the hedonistic culture that it depicts
This is Noé giving full rein to his malign brilliance, and fans will find it a blast. More delicate sensibilities be warned; there are moments here that make Noé's notorious Irreversible look like a limbering-up exercise.
A stand-alone prelude gives us an overhead shot of a distressed woman crawling across snow, to Gary Numan's queasily distorted synthesiser version of Eric Satie. Noé then introduces his cast – a large group of multi-ethnic, polysexual young dancers, seen on video interviewed about their aspirations, dreams and nightmares. We see them on a TV screen framed by various books and VHS covers that provide clues to Noé's inspirations: everything from Buñuel and Dario Argento to Romanian doomster philosopher E.M. Cioran.
Then comes what's effectively the Paradise section of this Garden of Earthly Delights. In front of a huge glittering French flag, the dancers – at the end of a training camp in an old secluded schoolhouse – do an astonishing, high voltage routine to a pumped-up version of disco classic 'Supernature', followed by other sounds spun by Daddy (DJ and producer Kiddy Smile). Their differing styles are wildly kinetic, often sexually hyper-charged, and the sequence is all more dazzling because it's shot in one extended take. The single-take effect – although one suspects it's faked through crafty whip pans – continues as the dancers loosen up, chat and help themselves to sangria provided by troupe organiser Emmanuelle (Claude Gaujan Maull), who's unwisely brought her young son along for the fun.
What follows is a series of dialogues between the dancers, establishing characters and their sexualities. Two men discuss the women they fancy in graphically macho detail, a young man named David (Romain Guillermic) emerges as a self-styled super-stud and one woman comes to the fore as the likely Final Girl of what will follow – self-possessed vamp Selva. She's played by the one well-known figure among a cast of unknowns, Algerian dancer/actress Sofia Boutella (seen in Kingsman and recent Tom Cruise vehicle The Mummy).
It's some 45 minutes into the film before Noé hits us with a lurid storm of opening titles in various stylised club-style fonts, the director appropriately depicting himself as a creepily distorted smiley face. It's his signal that the fun has ended and it's time to descend into hell. As the acid-spiked sangria starts to kick in, the revellers start feeling strange – and acting even stranger. Violence breaks out as they accuse each other of spiking the drink, and more so as sexual tensions explode; one scene of female-on-female violence is particularly hard viewing.
The sense of paranoia and claustrophobia mount as Benoît Debie's camera explores the luridly-lit labyrinthine corridors of the school, sometimes upside down, leaving the viewer as disoriented and unnerved as the protagonists. Amid the long-take sequences, there's an extraordinary tour de force moment for Boutella, as Selva goes through a gymnastic set of solo agonies.
True to form, Noé is nothing if not sadistic towards his characters and the audience – one particular twist of the knife being the way that a child's terrified screams are threaded through Ken Yasumoto's complex sound design. As the action is plunged into red-lit shadow, the hellish atmosphere is at its peak and the events become disturbingly obscure. A morning-after coda seem to invoke urban-myth paranoid fantasies.
Allegedly based on events that took place in France in 1996, the film plays to unsettling and perplexing effect. It's an extraordinarily intense experience that seems at once to revel in and deprecate the hedonistic culture that it depicts – there's something of the ostensibly anti-drug sensationalism of Reefer Madness about it. As so often, you feel that Noé sometimes overplays his rhetorical hand, through a series of on-screen jokes and trademark interpolated captions of portentous fortune-cookie philosophy ("LIFE IS A COLLECTIVE IMPOSSIBILITY").
You may emerge from Climax, as from a full-on club night, feeling shattered and asking yourself what was the point of it all. But there's no denying the mastery of Noé and his team, and the extravagant talent of his cast. They dance with spectacular brio both individually and as a troupe, and prove relaxed, characterful actors, possibly improvising at times but working with an extraordinary sense of timing. Nina McNeely's choreography is perhaps only the most visibly astonishing element in a film of extremely complex orchestration which, remarkably, Noé shot over two weeks in February this year. Climax is a very bad trip – but that it is a trip, and perhaps Noé's boldest, is beyond doubt.
Production companies: Rectangle Productions, Wild Bunch
International sales: Wild Bunch bensalah@wildbunch.eu
Producers: Edouard Weil, Vincent Maraval, Brahim Chioua
Screenplay: Gaspar Noé
Cinematography: Benoît Debie
Editor: Denis Bedlow, Gaspar Noé
Production design: Jean Rabasse
Main cast: Sofia Boutella, Romain Guillermic, Souheila Yacoub, Kiddy Smile, Claude Gaujan Maull