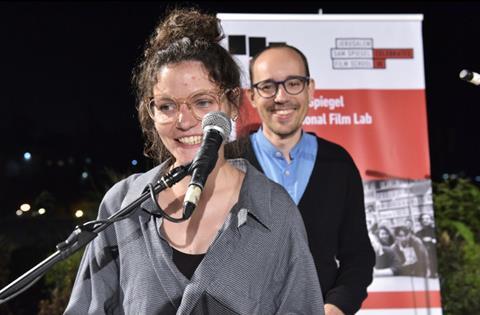 Hungarian writer-directors Anna Nemes and Laszlo Csuja's female body building drama Gentle Monster has scooped the top prize $50,000 prize at the Jerusalem Sam Spiegel International Film Lab (JSFL).
A total of 12 feature projects hailing from Brazil, Ghana, Hungary, Ireland, Georgia and Israel participated in the eighth edition of the eight-month lab.
The awards were handed out at the end of a final wrap up session in Jerusalem, running July 4-8, at which participants pitched their projects to a jury of industry professionals.
Gentle Monster revolves around a thirty-something female body builder who tries to establish an authentic relationship with her body after years of pushing it to the limits.
"Reading this script about female body building was a physical experience, affecting our biceps and other muscles, eventually moving to our minds and imagination," the jury said in a statement.
The second $20,000 prize was divided between two projects: Irish director Mark Noonan's This Is The Country, an exploration of Ireland through the prism of a passionate love story, and Ghanian-Belgian director Anthony Nti's Postcard set against the backdrop of the world of prostitution.
The Jean-Claude Carrière Show Food Dinner Award went to Israeli filmmaker Yehonatan Indursky's The Cantonist. It is the debut feature for the writer-director who has already achieved acclaim with the hit TV series Shtisel, revolving around an Orthodox Jewish family in Jerusalem.
As part of the prize, the winner is invited for dinner and a one-on-one script consultation with the Oscar-winning screenwriter whose some 150 credits include The Unbearable Lightness Of Being, the 1992 adaptation of Cyrano de Bergerac, starring Gérard Depardieu, and more recently At Eternity's Gate.
Jurors at this year's edition included Sundance Film Festival director of programming Kim Yutani, Beta Film CEO Jan Mojto, Israeli director Nadav Lapid, Westend Films chairman Sharon Harel, Yes Satellite chief content officer Koby Gal Raday, Le Pacte acquisitions chief Thomas Pibarot, producer Janine Jackowski of Komplizen Film and Sydney Film Festival director Nashen Moodley.
Other prizes
In other awards, Georgian director Levan Koguashvili's drama Brighton 4, which is in post-production and was presented in the work-in-progress section won both its prizes: the $25,000 Lab Wip Award and the $25,000 ARP Selection award.
Shot in Georgia, Bulgaria and New York, the film follows a Georgian ex-wrestler who travels to Brooklyn to help his son get out of gambling debts. It is lead produced by Ukrainian producer Olena Yershova.
Israeli director Pini Tavger and producer Haim Meckelberg won a $50,000 grant from the new Los Angeles-based platform New Mandate Films, aimed at supporting projects dealing with Jewish and Israeli themes.
The drama, revolving around a young Russian boy newly arrived in Israel who is drawn to a religious family in his apartment block, begins shooting in August. It previously won the top JFSL prize in 2017.
Honorary awards
The lab also feted Sony Pictures Classics co-founding chief Michael Barker with the second edition of its Force of Nature in Filmmaking Award. Last year, former Berlinale director Dieter Kosslick was presented with the inaugural prize.
Barker, who participated in the lab, accepted the award in person. He has distributed numerous Israeli features in the US including Broken Wings, Waltz With Bashir, The Band's Visit, Footnote, The Gate Keepers and Fill The Void.
The lab also saw the launch of the new The Almost 40 Award, created in memory of prolific late producer John Heyman, who died in 2017.
It is aimed at a young film industry professional who has acted as an agent for change in the promotion of film in his country and region. The inaugural recipient was Jovan Marjanovic, head of industry at the Sarajevo Film Festival.
The choice was decided an international jury including Barker, Mojto, Nizza Heyman (the late producer's wife), TIFF executive director and co-head Joana Vicente, Schorr and Israeli producer Omri Maron.
Spearheaded by the respected Jerusalem Sam Spiegel Film School's outgoing director Renen Schorr, the lab has helped develop some 80 feature film projects since its creation in 2011, including the Oscar and Cannes Grand Jury Prize winner Son Of Saul, Lapid's The Kindergarten Teacher and Israeli-Ethiopian drama The Fig Tree.