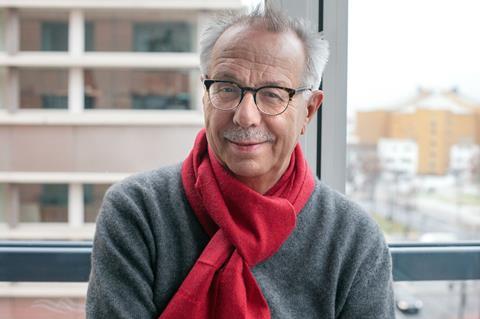 Dieter Kosslick will receive the Sam Spiegel International Film Lab's newly created Force-of-Nature Filmmaking Award.
The distinction wishes to acknowledge "a cultural master-builder who changed the infrastructure of world cinema."
The Film Lab's founding director Renen Schorr told Screen that the award will be presented to the Berlinale's director at the beginning of the Film Lab's international pitching platform, which is to be held independently of the Jerusalem Film Festival for the first time since the Lab's establishment in 2011 – July 5-8.
According to Schorr, Kosslick will give a keynote speech "about his life as a 'master-builder' that will be highly inspirational to all Lab participants" and then stay on in Jerusalem to take part in brainstorming about a draft manifesto declaring, among other things, a belief "in a mainstream cinema that is popular as well as experimental" as well as "a cinema that shatters stereotypes."
Work in Progress
This year will see the Lab introducing the new Sam Spiegel Work in Progress Platform open to films by the Lab's international and local alumni as well as by graduates of the Jerusalem Sam Spiegel Film School.
Six films in postproduction will be selected to compete for two cash prizes totalling $50,000: the $25,000 ARP Sélection Award and the $25,000 Sam Spiegel Foundation Award.
The brainchild of the Jerusalem Sam Spiegel Film School, the Film Lab has seen some 75% of its projects going into production since being launched in 2011, including the Hungarian Oscar winner Son of Saul and Israeli filmmaker Nadiv Lapid's acclaimed The Kindergarten Teacher.
In addition, Tzivia Yaakov Barkai, a participant of the Film Lab in 2012 and a graduate of the Jerusalem Sam Spiegel Film School, will see her coming-of-age film Red Cow having its world premiere in the Berlinale's Generation 14plus programme.
The Film Lab's 2018 intake includes emerging filmmakers from Croatia (Antoneta Alamat Kusijanovic), Panama (Abner Benaim), Spain (Mikel Gurrea), Turkey (Emre Kayis) and Israel (Moshe Rosenthal) who are currently working on their screenplays with international script editors Clare Downs, Jacques Akchoti and Avi Nebner.