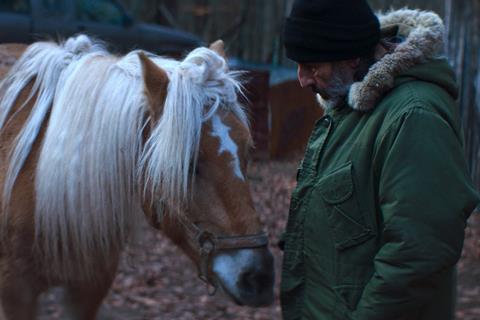 Georgis Grigorakis' Digger, starring Vangelis Mourikis and Argyris Pandazaras, dominated the Hellenic Film Academy (Helfiac) Iris awards on June 16, winning 10 of the 14 awards for which it was nominated, including best film, director, first film and screenplay.
Digger tells the story of a father-son reunion set against the backdrop of rural and environmental issues.
The Greek-German-French co-production is a collaboration between Athina Rachel Tsangari's Haos Films, Christos Konstantakopoulo of Faliro House, Fenia Cossovitsa's Blonde and Gabrielle Dumon's Le Bureau Films. It premiered in the Panorama section of the Berlinale in 2020, and went on to play at several virtual festivals including Sarajevo. The Match Factory is handling international sales.
The open -air ceremony was the first physical cinema event to go ahead since the beginning of the pandemic. Open-air cinemas have been able to open at 75% capacity since May 21 with indoor venues set to reopen from July 1st at 50% capacity.
Helfiac voters had to choose among the 120 films submitted, a hefty number considering both the ongoing pandemic and the lack of state funding for the local film sector, according to Helfiac president and filmmaker Yorgos Tsemberopoulos.
Culture deputy minister Nikolas Giatromanolakis attended the awards and promised more state support for Greek producers. He also underlined the benefits of recent improved coordination between the Greek Film Centre, the national Film Commission Offices and EKOME, which administers the cash rebate and tax credit and how that has resulted in an increase in the number of international productions shooting in the country.
Main winners, Iris Awards 2021
Best feature film, fiction
Digger

Best feature film, documentary
The Unknown Athenians
Best feature film, fiction (Greek minority co-production)
Konstantina Stavrianou, Rena Vougioukalou for Sow the Wind directed by Danilo Caputo
Director – Giorgis Grigorakis for Digger
Screenplay - Giorgis Grigorakis for Digger
First-time director - Giorgis Grigorakis for Digger
Actress – Melika Foroutian, Pari
Actor – Vangelis Mourikis, Digger
Supporting actress – Vasiliki Kallimani, Ballad For A Pierced Heart
Supporting actor – Stathis Stamoulakatos, Amercement
Cinematography – Giorgos Karvelas, Digger
Honorary awards : actress Mary Chronopoulou and grip Giannis Papadakis