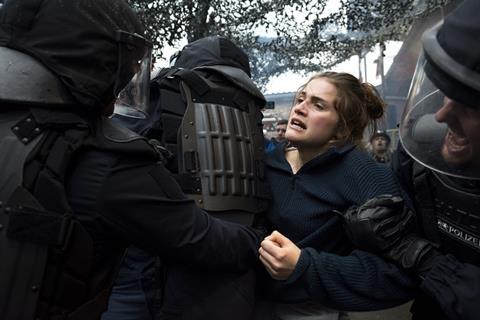 Julia von Heinz's political drama And Tomorrow The Entire World has been selected by an independent jury of experts to represent Germany in the best international feature film category for the 93rd Oscars on April 25, 2021.
The German-French co-production between Seven Elephants, Kings & Queens Filmproduktion, and Haiku Films beat off competition from such films as the Berlinale competition entries Berlin Alexanderplatz and Undine, as well as Oskar Roehler's Fassbinder biopic Enfant Terrible.
And Tomorrow The Entire World – which is being handled internationally by Films Boutique – received its world premiere in competition at this year's Venice Film Festival, where the lead actress Mala Emde was presented with the Bisato d'oro in the best actress category.
The film follows a rich young recruit to a collective of Antifa activists who must decide whether combating hate justifies violence.
Fabian Gasmia and von Heinz produced, and co-producers are John Quester, Thomas Jaeger and Antoine Delahousse. The film was produced in cooperation with SWR (Katharina Dufner), WDR (Andrea Hanka), BR (Harald Steinwender), and ARTE (Andreas Schreitmüller).
Von Heinz was the first female German director to be in Venice's competition since Margarethe von Trotta with Rosenstraße in 2003.
And Tomorrow The Entire World also screened at Chicago International Film Festival, where it won the Silver Hugo for best ensemble performance, and will now appear in the In Focus: New German Cinema section of Tallinn Black Nights Festival in November.
It was the first production to go before the camera under the director-driven label Seven Elephants, which von Heinz launched on the eve of the 2018 Berlinale with fellow directors Erik Schmitt and David Wnendt, and Gasmia.
The drama opened the Hof Film Days last week.