EXCLUSIVE: Producer Charles Gillibert launches project at Cannes.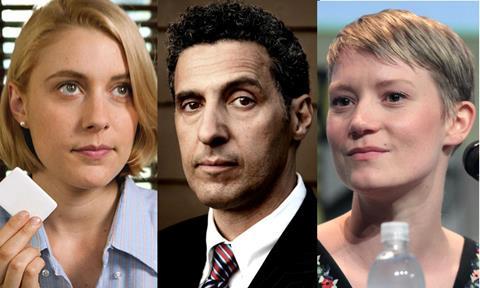 Greta Gerwig, Mia Wasikowska and John Turturro have signed for French filmmaker Mia Hansen-Love's English-language debut Bergman Island, set on the Swedish island of Faro which was home to the late director Ingmar Bergman.
The picture revolves around an American filmmaking couple who retreat to the island for the summer to each write screenplays for their upcoming films in an act of pilgrimage to the place that inspired Bergman.
As the summer and their screenplays advance, the lines between reality and fiction start to blur against the backdrop of the Island's wild landscape.
Hansen-Love's long-time producer Charles Gillibert, who previously collaborated with the director on Things To Come and Eden, is launching financing on the project at Cannes under his CG Cinema banner. A sales agent has yet to be set.
The production, which was developed with the support of Sweden's Filmregion Stockholm-Mälardalen through its Gotlands Filmfond, will shoot in the summer of 2018, coinciding with the centenary of Bergman's birth on July 14, 2018. A sales agent is yet to be attached.
Before that, Hansen-Love will shoot her next film Maya, starring Romain Kolinka as a reporter who heads to India after being held hostage in Syria.
Other upcoming titles on CG Cinema's increasingly high-profile slate includes Deniz Gamze Erguven's LA riots drama Kings, starring Halle Berry and Daniel Craig, which is in post-production. First images will be shown at Cannes by sales agent IMR.
The company is also in the throes of casting Olivier Assayas's next French-language feature, which will shoot by the end of 2017. It has recently boarded Philippe Garrel's next film, provisionally titled Première Chasse, following a boy's first amorous adventures, which will go into production in 2018.
The company is also gearing up for production on Yann Gonzalez's thriller Knife + Heart starring Vanessa Paradis as a gay-porn producer in 1970s Paris, which is sold by Kinology. Gonzalez was last in Cannes with orgy comedy You And The Night which played in the 2013 edition of Critics' Week.
On the international front, CG has recently signed as co-producer on Chinese director Bi Gan's detective tale Long Day's Journey Into Night starring Tang Wei.
In Cannes, CG was a producer on late Iranian director Abbas Kairostami's final experimental work 24 Frames which premieres as a Special Screening in the Official Selection. It is also handling sales and promotion of the title which Gillibert says is aimed at museum and cinematheque-style screenings.
In other CG Cinema news, Gillibert has recently hired culture and entertainment journalist Romain Blondeau to spearhead a new department focused at developing long and short format content aimed at the new digital platforms.