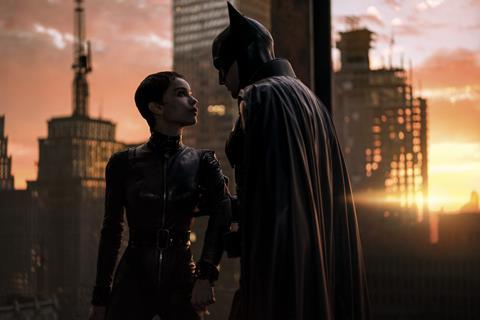 Worldwide box office March 18-20
| Rank | Film (distributor) | 3-day (World) | Cume (World) | 3-day (Int'l) | Cume (Int'l) | Territories |
| --- | --- | --- | --- | --- | --- | --- |
| 1. | The Batman (Warner Bros) | $85.9m | $598m | $491.m | $298m | 77 |
| 2. | Uncharted (Sony) | $27m | $337.2m | $19m | £211.4m | 58 |
| 3. | Jujutsu Kaisen 0 (various) | $22m | $144.6m | $4.3m | $127m | 10 |
| 4. | The Bad Guys (UPI) | $8.4M | $8.4M | $8.4M | $8.4M | 25 |
| 5. | Sing 2 (UPI) | $7.5m | $376.4m | $6.1m | $218m | 69 |
| 6. | Dog (various) | $5.6m | $64.7m | $1.5m | $10.5m | 19 |
| 7. | X (various) | $4.7m | $4.7m | $0.3m | $0.3m | 5 |
| 8. | Spider-Man: No Way Home (Sony) | $4.7m | $1.8bn | $1.5m | £1bn | 60 |
| 9. | Ambulance (UPI) | $4.3m | $4.3m | $4.3m | $4,3m | 35 |
| 10. | Death On The Nile (Disney) | $3.3m | $130.6m | $1.6m | $87.1m | 32 |
Credit: Comscore, all figures estimates, click top right to expand
'The Batman' crosses $600m
MARCH 21 UPDATE: Warner Bros' The Batman experienced tolerable erosion in its third weekend of play, declining approximately 45% in North America and 46% in international holdover markets. However, a fresh opening in China, grossing a confirmed $11.7m, helped pump up the international numbers. In China, Imax accounted for $2m or 16% of takings.
The Batman grossed an estimated $36.8m in North America, and $49.4m for international, combining for approximately $85.9m worldwide. Cumulative totals are $300.1m in North America, $300.4m for international, and $600.5m worldwide.
Playing on 18,600 screens in China, The Batman achieved the biggest opening weekend of a US title in 2022 – although competition for that particular honour is pretty thin. Warner Bros reports that approximately 43% of cinemas are currently closed in China due to a new wave of Covid.
For comparison, Warner Bros' Justice League began with $50.6m in China in 2017, on its way to a $106.1m total. Batman V Superman: Dawn Of Justice kicked off with $55.7m in China in 2016, and maxed out at $95.8m. The Batman has begun far below those titles.
Among international markets, UK/Ireland leads with $43.4m to date, ahead of Mexico ($24.8m), Australia ($21.3m), Brazil ($18.2m) and France ($19.3m).
At the same stage of release in like-for-like markets, The Batman is tracking 35% ahead of The Dark Knightand 9% ahead of Justice League. The latter title grossed $658m worldwide in 2017, and The Batman is already 91% of the way to matching that total.
The Dark Knight and The Dark Knight Rises reached $1.01bn and $1.08bn worldwide respectively – and The Batman has reached 59% and 55% of those totals.
'The Bad Guys' and 'Ambulance' hit early markets
UPDATED: Two highly contrasting titles from Universal – DreamWorks animation The Bad Guys and Michael Bay heist thriller Ambulance – both hit early international markets at the weekend, landed respectively in fourth and ninth place in the global box office chart.
The Bad Guys, which features a quintet of animal criminals attempting to reform, took a confirmed $8.4m from 25 territories, led by Spain with $1.8m (ahead of Encanto to deliver the biggest animated opening of the pandemic era, and nabbing the box office top spot from The Batman). Second best is Mexico, with $1.4m, opening in second place behind The Batman. Germany delivered $1m and Brazil $600,000 – likewise landing in second place behind The Batman in both markets. The next key territories to open are Italy and Australia on March 31 and UK/Ireland on April 1. France follows on April 6.
Ambulance, a remake of 2005 Danish thriller Ambulancen, stars Jake Gyllenhaal and Yahya Abdul-Mateen II landed in 35 early international markets on $4.3m.
The story of bank robbers who hijack an ambulance after a heist goes awry and must then help a paramedic get an injured cop to safety opened in Saudi Arabia, the top market from the initial wave, on $965,000 followed by Mexico on $745,000.
The film has yet to open in most key territories and faces its real commercial test this week when it arrives in France and Italy on Wednesday (March 23), Brazil and Germany on Thursday (March 24) and UK/Ireland and Japan on Friday (March 25).
'Jujutsu Kaisen 0' surges to third place in global chart
The arrival in North America of Japanese anime Jujutsu Kaisen 0 saw the film land in second place at the domestic box office with an estimated $17.7m for distributor Crunchyroll. The film is based on the Gege Akutami manga series, and directed by Park Sunghoo, who also helmed the 2020 anime TV series Jujutsu Kaisen.
Jujutsu Kaisen 0 has grossed $108.4m in Japan since release last Christmas, and also $3.7m in South Korea. The film landed in UK/Ireland last Wednesday via Sony, delivering an estimated five-day $1.1m. The global total including North America is now $144.7m.
The film follows Yuta Okkotsu, a nervous high school student who enrols at the mysterious Tokyo Jujutsu high school under the guidance of Satoru Gojo after being haunted by the curse of his childhood friend. The manga was serialised in Shueisha's weekly Shonen Jump and has sold over 60 million copies in Japan.
'Uncharted' earns $10m in China in first week
Like The Batman, Sony's Uncharted received a boost from its arrival in China – and grossed $10.4m there after seven days of play. That helped swell the international weekend tally to an estimated $19.0m.
Totals for the PlayStation videogame spinoff are now $125.9m in North America and $211.4m in international markets, combining for $337.3m worldwide.
UK/Ireland continues to lead the international pack for cumulative box office on the title (with $30.6m), ahead of France ($17.8m), Russia ($16.6m), Germany ($12.2m) Spain ($12.0m), and Australia ($12.0m).
Uncharted has already passed the worldwide lifetime gross of 2018's Tomb Raider ($274.7m), starring Alicia Vikander, as well as of 2016's Assassin's Creed ($240.7m), starring Michael Fassbender. Warcraft (2016), with $439.0m, remains the target to beat, but that videogame adaptation benefited from a towering $225.5m in China alone.