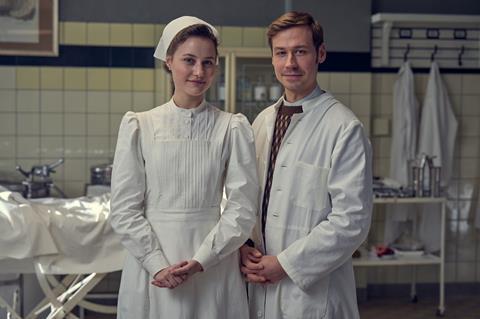 German sales outfit Global Screen has acquired international rights to historical high-end drama series Davos, starring Dominique Devenport and David Kross, now shooting in Switzerland and Germany.
Inspired by true events during the First World War, the espionage thriller centres on a young Swiss nurse working in a Swiss health resort where various spies are meeting to hatch a daring plan.
Devenport most recently starred as Elisabeth Empress of Austria, in RTL+ 's series Sisi.
The series is a co-production between Switzerland's Contrast Film and Germany's Letterbox Filmproduktion, part of the Studio Hamburg Production Group, with Amalia Film and public broadcasters SRF and ARD Degeto. It was the first Swiss series to be pitched at the Berlinale Series Market in 2019 and went to be selected for Torino SeriesLab, ACE Series, Series Lab Brussels, Serial Eyes and Bolzano's IDM Incontri.
Backing for the six-part series has come from six German film funds - Film- und Medienstiftung NRW, FFF Bayern, MOIN, MFG Filmförderung Baden-Württemberg, nordmedia and the German Motion Picture Fund - as well as Zürcher Filmstiftung, the Teleproduktion-Fonds, the regional branding of Graubünden, the Canton of Zug, Media Desk Suisse, and the region of Engadin Bassa/Val Müstair.
"A historical series set during the First World War in seemingly neutral Switzerland where the strings of European wartime politics are covertly being pulled, is a novelty and gives international relevance to our project," according to Contrast Film's Ivan Madeo and Stefan Eichenberger.
"Davos is set in the past but the series is about today," added Letterbox's Michael Lehmann and Lisa Arndt. "The questions of how Europe can unite and reorganise itself, how a divided continent can ever find peace again, play a major role in the background."
Shooting at locations in Switzerland, North Rhine-Westphalia, Bavaria and Hamburg, among others, will continue until March 2023 by co-directors Anca Miruna Lăzărescu and Jan-Eric Mack based on scripts by head writer Adrian Illien and his co-authors Thomas Hess, Julia Penner and Michael Sauter.
Lăzărescu's recent directing credits include the HBO/TNT mini-series Hackerville, the Netflix Original series Wir Sind Die Welle, and Eyeliner and Do Not Sleep, the last two episodes in the third season of Hanna for Amazon Prime.
Davos is her second collaboration with Letterbox Filmproduktion following the mini-series Herzogpark set in Munich's high society which premiered on RTL+ this May.
Meanwhile, Mack, whose graduation film Facing Mecca won a Student Academy Award in 2017 and made it to the Oscars shortlist in the live action short category, co-directed the second season of Wilder, a crime thriller series set in the Swiss Alps which was hailed by critics as the "best Swiss series ever made".
Mack was solely responsible for directing chores on Wilder's third season which aired at the beginning of 2021.