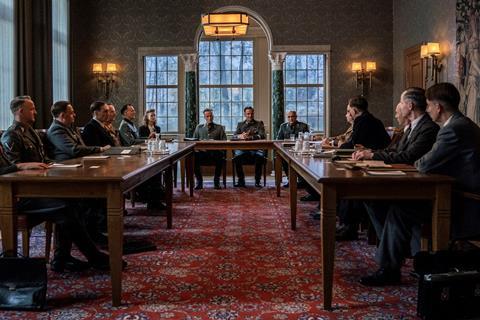 Munich-based sales outfit Global Screen has closed deals in key territories for Matti Geschonneck's historical drama The Conference, ahead of the EFM.
The feature chronicles the 1942 Berlin meeting in which Nazi leaders formally drew up plans for the systematic murder of millions of Jews, known as the Final Solution.
The Conference has been sold to North America (Menemsha Films), Australia (Pivot Pictures), Japan (The Klockworx), Taiwan (Swallow Wings), Italy (Rai), Spain (Flins & Piniculas, Portugal (Films4You), Benelux (Arti Film), Sweden, Denmark, Norway, Finland, Iceland and Baltics (Edge Entertainment), Poland (ITI Neovision), Slovenia (RTV), Italian-speaking Switzerland (RSI) and Israel (Red Cape).
Written by Magnus Vattrodt and Paul Mommertz, the feature was produced by Constantin Television and ZDF to mark the 80th anniversary of the Wannsee Conference, which took place on January 20, 1942. German broadcaster ZDF screened the historical drama on January 24.
The cast is led by Philipp Hochmair as Reinhard Heydrich and Johannes Allmayer as Adolf Eichmann, known as a major organiser of the Holocaust. The feature was filmed on location at Lake Wannsee and in Berlin's Unionfilm Studios.
Producer Reinhold Elschot said the script was based the minutes of the 90-minute meeting, which led to the genocide. Executive producer is Oliver Berben at Constantin Film.
Global Screen will host virtual market screenings of The Conference during the EFM and is also offering buyers an accompanying 45-minute documentary, The Wannsee Conference – A Documentary, directed by Jörg Müllner.