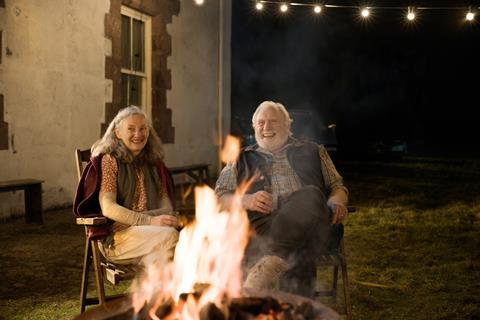 Global Screen has licensed further key territories on Klaus Haro's English-language debut My Sailor, My Love, which recently opened top of the box office in Finland and will continue selling at the AFM.
Rights have gone to Kismet for Australia and New Zealand and Twelve Oaks for Spain following a recent deal announced in Screen with Signature for the UK and Ireland. Global Screen's SVP international sales and acquisitions Klaus Rasmussen is engaged in ongoing conversations for the US and further territories.
Haro's (The Fencers) latest film received its world premiere at TIFF in September and stars James Cosmo and Brid Brennan in the story of a retired Naval officer who falls for his home help despite the misgivings of his adult daughter. The cast includes Catherine Walker.
My Sailor, My Love opened in Finland through Nordisk Film in late September and held on to the number one ranking for two weeks before it was dethroned by Universal's Ticket To Paradise with George Clooney and Julia Roberts. It currently ranks sixth in the Finnish box office charts and has grossed more than Euros 618,000 (USD 608,000).
Rasmussen said, "The heartfelt story, the stunning performances and the glorious Irish landscape have been those particular elements which have at last managed to get the senior audience back into the cinemas."
Kai Nordberg and Kaarle Aho produced My Sailor, My Love for Making Movies Oy (Finland) alongside David Collins for Samson Films (Ireland). The film received support from the WRAP Fund for the West of Ireland, the Finnish Film Foundation and Fís Éireann Screen Ireland. Executive producers are Cloé Garbay and Bastien Sirodot for Umedia (Belgium).