Universal comedy Dad's Army leads Fri-Sun with $3m (£2.07m) from 585 sites.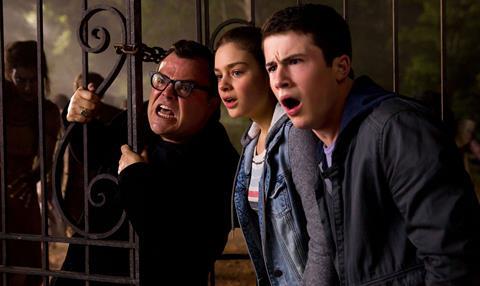 SONY
Goosebumps ended The Revenant's reign as the UK's number one with a promising debut ahead of the school half term.
Sony's family horror-comedy spooked up $3.9m (£2.7m), including $1.5m (£1m) in previews, from its 510 sites for a $7,651 (£5,294) average. Based on Fri-Sun tallies, Goosebumps would have been second behind Dad's Army with $2.5m (£1.7m).
Jack Black's previous collaboration with director Rob Letterman, Gulliver's Travels, is ahead of Goosebumps with an opening Fri-Sun tally of $3.4m (£2.33m) when stripping out its extensive previews.
Gulliver's Travels went on to take $22m (£15.23m) at the UK box office and with the upcoming school holiday, Goosebumps will hope to be able to challenge that tally if it can hold off the family competition.
Also for Sony, Hotel Transylvania 2 and The Lady In The Van stand at $29.5m and $18.3m (£12.7m), respectively, while The 5th Wave has taken just $1.4m (£955,000) after three weeks in play.
UNIVERSAL
It may not be an official chart topper, but Dad's Army did lead the charge over Fri-Sun at the UK box office.
Universal's big screen outing for the beloved sitcom posted a $3m (£2.07m) debut from its 585 sites, marking a $5,128 (£3,535) site average. It's a solid start but a true measure of its success will be if it connects with the midweek older audience.
Comparisons are tricky given the age of the original sitcom. Most recent big screen comedy adaptations are from newer shows. For example, Dad's Army came in far behind Mrs. Brown's Boys D'Movie's $6.2m (£4.3m) UK bow from 522 sites, but that would have attracted a younger audience.
The 'grey pound' contenders are probably a better indicator and the most successful one, The Best Exotic Marigold Hotel, posted a debut a little higher than Dad's Army at $3.2m (£2.22m) from 504 sites.
Also for Universal, Ride Along 2 fell more than 50% in its third weekend to take $776,000 (£535,236) for $7.5m (£5.14m) to date, while The Danish Girl has amassed $10.3m (£7.07m) after six weeks in play.
FOX
The Revenant fell to third with a non-final $1.7m (£1.21m) fourth weekend.
Fox's awards contender is up to a terrific $26.4m (£18.35m) and with likely award wins to come this month, there's still a chance it could boost enough to top The Wolf Of Wall Street's $32.7m (£22.7m).
Stablemate The Martian is currently the highest grossing Best Picture hopeful with $33.9m (£23.5m).
Also for Fox, Snoopy And Charlie Brown: The Peanuts Movie will hope the upcoming half term can push it past £10m, after taking just $100,000 (£69,450) for $13.9m (£9.67m).
Joy and Bridge Of Spies have amassed $7.2m (£4.99m) and $11.2m (£7.79m), respectively.
LIONSGATE
Falling just 35% (excluding previews), Dirty Grandpa enjoyed a $1.4m (£944,369) second weekend at the UK box office.
Lionsgate's comedy seems to be thriving despite the critical mauling and is now up to $5.3m (£3.66m). If it can continue the solid hold this coming weekend, Dirty Grandpa will look to challenge the $8.9m (£6.2m) result of director Dan Mazer's debut I Give It A Year.
EONE
Having expanded to 379 sites nationwide, Spotlight posted a slim drop on its way to a $1.2m (£860,259) second weekend.
eOne's awards contender is up to a ten-day tally of $3.8m (£2.64m) and will hope to continue its solid first mid-week performance, which saw it come second most days behind The Revenant but bank more than $1m (£700,000).
Also for eOne, Trumbo got off to an uninspiring start with $209,000 (£144,308) from its 92 sites for a $2,275 (£1,569) site average. It'll need a strong midweek performance to retain as many sites this weekend.
DISNEY
Falling 44% in its eighth weekend, Disney's Star Wars: The Force Awakens added $1.1m (£750,000) for a mammoth $175m (£120.7m) to date.
Also for Disney, The Good Dinosaur boosted 35% on its way to $261,000 (£180,000) for $20.4m (£14.1m).
PARAMOUNT
In its third weekend, Paramount's The Big Short grossed a further $804,000 (£554,000) for $5.9m (£4.1m), and will hope for a notable BAFTA win this coming weekend to prolong its run.
Also for Paramount, Daddy's Home took a further $364,000 (£251,000) for an excellent $24.2m (£16.7m), while Capture The Flag and 13 Hours: The Secret Soldiers Of Benghazi stand at $1.5m (£1m) and $632,000 (£436,000), respectively.
Ahead of its release this Friday [Feb 12], Zoolander 2 banked $967,000 (£667,000) from previews on Saturday and Sunday. It is already on the cusp of overtaking the overall debut of its predecessor.
WARNER BROS
Action remake Point Break struggled to make an impact in a busy field with a $606,000 (£418,000) UK debut from its 365 sites through Warner Bros.
With the arrival of the likes of Zoolander 2 and Deadpool, it'll likely suffer this coming weekend.
Also for Warner Bros, Creed has now punched its way to $8.2m (£5.68m) following a $244,000 (£168,000) fourth weekend.
STUDIOCANAL
Room has crossed the £3m mark at the UK box office in its fourth weekend.
Studiocanal's well-received adaptation added $244,000 (£169,662) for $4.4m (£3.05m) so far. Like The Big Short and other award hopeful, a win at this weekend's BAFTAs could give it a boost.
Also for Studiocanal, Paolo Sorrentino's Youth posted a $178,000 (£123,684) second weekend for $809,000 (£563,344). It's attempting to chase down Sorrentino's best-ever performer, The Great Beauty's $1.4m (£960,000) result.
SODA PICTURES
Iceland's unsuccessful Oscar submission Rams recorded a $39,000 (£26,898) from its 20 sites through Soda Pictures.
DOGWOOF
Released in 13 sites through Dogwoof, music documentary Janis: Little Girl Blue posted a $24,000 (£16,375) UK bow.
UPCOMING RELEASES
This week sees saturation releases for Fox's Deadpool (opens Feb 10), Lionsgate's Pride And Prejudice And Zombies (opens Feb 11), Fox's Alvin And The Chipmunks: The Road Chip, Sony's Concussion and Paramount's Zoolander 2.
StudioCanal's A Bigger Splash, Icon's Oddball And The Penguins and Universal's Jem And The Holograms all receive wide releases.
eOne's The Green Inferno, Picturehouse Entertainment's Meru and Warner Bros' The Iron Giant: Signature Edition are among the films receiving a limited release.