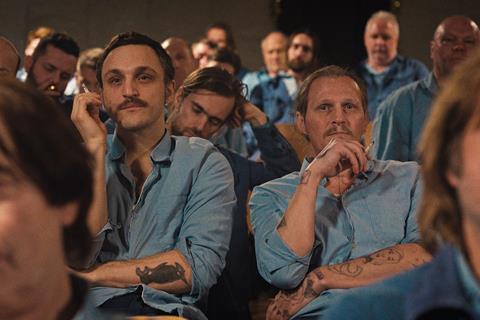 Sebastian Meise's Great Freedom has won two prizes at the European Film Awards, among the eight winners that have been unveiled ahead of the ceremony on December 11.
An eight-member jury met in Berlin to choose the winners in the categories of cinematography, editing, production design, costume design, make-up and hair, original score, sound and visual effects. All were chosen from the feature film selection of 53 films.
The winners will be honoured at the ceremony in Berlin on December 11.
Scroll down for the full list of winners
Great Freedom has won for European cinematography and European original score. The drama has previously scooped the Jury Prize in Un Certain Regard upon its debut at Cannes 2021, as well as the top prize at Sarajevo Film Festival.
The Austria-Germany co-production is also Austria's submission for the Oscars best international feature category. The feature charts the persecution of homosexuality in Germany over the decades.
The jury consisted of Denmark's Camilla Hjelm (cinematographer), the UK's Matt Kasmir (VFX supervisor), Serbia's Jelena Maksimovic (editor), Italy's Ursula Patzak (costume designer), France's Célia Sayaphoum (sound designer), Germany's Francis 'Kiko' Soeder (production designer), Turkey's Başar Ünder (composer) and the Netherlands' Leendert van Nimwegen (make-up artist).
European Film Awards winners
European cinematography – Crystel Fournier, Great Freedom
European editing – Mukharam Kabulova, Unclenching The Fists
European production design – Márton Ágh, Natural Light
European costume design – Michael O'Connor, Ammonite
European hair and make-up – Flore Masson, Olivier Afonso, Antoine Mancini, Titane
European original score – Nils Petter Molvær, Peter Brötzmann, Great Freedom
European sound – Gisle Tveito, Gustaf Berger, The Innocents
European visual effects – Peter Hjorth, Fredrik Nord, Lamb