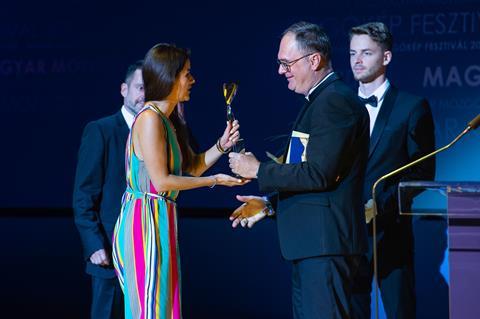 Hajni Kis' feature debut Wild Roots was awarded best feature film, best screenplay and best first feature director at the Hungarian Motion Picture Awards on the closing night of the Hungarian Motion Picture Festival (HMPF, June 9 - 12) at the Veszprém Petőfi Theatre.
Wild Roots, co-written by Kis and Fanni Szántó, centres on an aggressive ex-con whose troubled 12-year-old daughter seeks him out following his release from prison.
The Hungarian director won the Works In Progress award at Karlovy Vary International Film Festival's industry showcase, Eastern Promises in 2020 where he received a cash prize of €10,000. Wild Roots went on to world premiere at Karlovy Vary in the East of the West Competition in 2021.
Ildikó Enyedi took the best director award for The Story Of My Wife which also won prizes for best cinematography, best costumes, best make-up and best editor at the festival. The film about a seasoned Dutch sea captain who makes a fateful bet in a café that he will marry the first woman who enters the place premiered in Competition at Cannes last year.
Péter Fazakas' thriller The Game achieved three wins for best actor, best supporting role and best sound, while András Pires Muhi's One for All took the single win for best full-length documentary,
Meanwhile, Kriszta Goda won best TV film for her TV adaptation of Géza Gárdonyi's novel Romance of Ida and László Magács' Shakespeare/37 – Montague & Capulet was titled best TV series.
The audience award was handed to Dániel Tiszeker's romantic comedy Christmas Flame which follows a fireman whose life stops sizzling when his wedding proposal goes up in flames.
About 100 productions were screened in various programmes over four days at HMPF with a total of 20 awards presented. The festival is the successor to the long-running Hungarian Film Week, which ran for nearly 50 years before being cancelled in 2013.