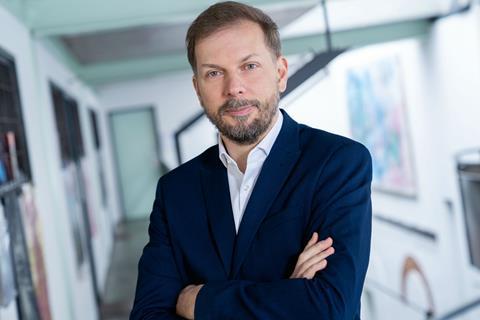 Helge Albers has plenty of ideas of how boost the profile of the Hamburg region, both in Germany and internationally. The former producer succeeded Maria Köpf as CEO of the local regional film fund Filmförderung Hamburg Schleswig-Holstein (FFHSH) in April and, in line with how the global production axis has swung in favour of TV series, he plans to take the focus of the fund's activities beyond film to high-end drama series.
"There is an urgent need for us to venture into the field of series because our applicants crossing over from the world of cinema are now also developing series projects," said Albers, talking to Screen at the FilmFest's inaugural industry Explorer Conference.
"Working on series for platforms and streaming services as well as the public and commercial channels has now reached the independent sector."
Other German regional film funds such as Film- und Medienstiftung NRW, FFF Bayern and Medienboard Berlin-Brandenburg have already been active in establishing funding programmes for high-end TV series. Babylon Berlin, 4 Blocks, Empire Oktoberfest and Parfum are just a few series backed by the regional funds in recent years.
But Albers doesn't stop at high-end series when looking to extend FFHSH's funding portfolio.
"We would also like to be in a position to support more innovative audiovisual content such as web series because I think it's important to expand the spectrum of funding activities as a way of acknowledging how the media sector is changing as well as ensuring that people stay in our region because they feel they have a future here," he said.
"Expanding our activities means, of course, that we would need an increase to our funding budget - I sense an affinity and desire in the politicians' heart to agree to more money although this is not easy at a time of scarce public resources," he admitted. "Nevertheless, every politician ought to see the potential of series to generate greater regional economic spend and create more jobs than we can achieve from only backing films [for the cinema]".
Last year, FFHSH had an overall budget of €15.3m at its disposal, with 80% of this amount – €12.5m Euros – allocated to the funding of film and TV productions.
The City of Hamburg provided €8.27m (54.1%) of the film fund's overall budget, while the neighbouring federal state of Schleswig-Holstein contributed €767,000.
"The skills shortage is particularly evident here in the media industry and we are looking for solutions by entering into a dialogue with the Chamber of Commerce and training institutions," Albers added. "In the past, there was more emphasis on 'learning on the job' but young people nowadays make greater demands on their first job. Topics like work-life balance, risk minimisation and the need for proper vocational training certification have certainly gained in importance."
Heading up a film fund has been quite a new, but simulating learning experience for Albers over the past six months. As a producer, first at Flying Moon Filmproduktion and, most recently, at Achtung Panda! Media. he frequently applied for funding for projects.
In addition, he had been a member of the script funding committee for the German Federal Film Board (FFA) and was a consultant on projects for the Berlinale's World Cinema Fund for several years.
Albers' last producing project at Achtung Panda! Media was Alla Kovgan's 3D documentary Cunningham, which traces the artistic evolution of the legendary American choreographer Merce Cunningham. It is screening at the Filmfest Hamburg this week.
The Filmfest Hamburg runs from September 27 until October 5.