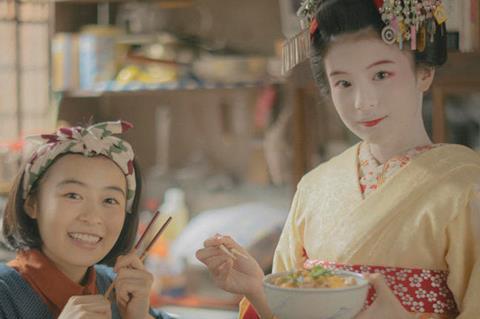 Japanese director Hirokazu Kore-eda's first Netflix series is to be an adaptation of a comic by Aiko Koyama, titled The Makanai: Cooking for the Maiko House.
Kore-eda, who won the Palme d'Or for Shoplifters in 2018, will serve as showrunner, director, and writer for the eight-episode drama.
The series is a joint production between Netflix, Tokyo-based Story and Kore-eda's compnay Bun-Buku, and will be streamed globally on Netflix in 2022.
It takes place amid the geisha district in Kyoto, and follows a woman, played by Nana Mori, who becomes a Makanai (person who cooks meals) at a house where apprentice geishas live together.
Confessions' Ai Hashimoto, Shoplifters' Mayu Matsuoka and veteran actress Keiko Matsuzaka also star.
Genki Kawamura, whose credits include Mirai and Confessions, will be producing alongside Kore-eda, with up-and-coming directors such as Megumi Tsuno, Hiroshi Okuyama and Takuma Sato directing individual episodes.
Kore-eda also has a feature film in the works at Netflix, as previously announced.