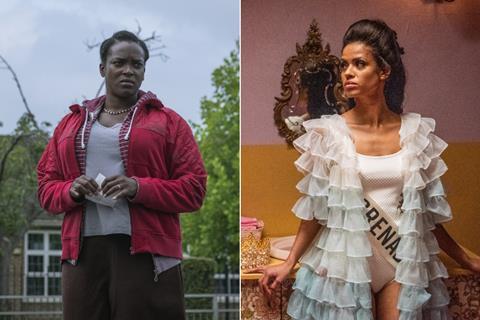 Horror His House and Miss World drama Misbehaviour have both received two British Independent Film Awards from the nine craft categories announced online today.
Directed by Remi Weekes, His House picked up best effects for Pedro Sabrosa and Stefano Pepin, and best production design for Jacqueline Abrahams. The film received 16 nominations this year, the second-highest total in the history of the BIFAs behind Saint Maud's 17 (also this year).
Philippa Lowthorpe's Misbehaviour recorded wins in costume design for Charlotte Walter and make-up and hair for Jill Sweeney, out of its three total nominations.
Saint Maud was nominated in all nine craft categories, picking up one win in best cinematography for Ben Fordesman.
Lucy Pardee won the best casting award for her work on Rocks, which was cast through a collaborative process involving workshops with young untrained actors.
The final three craft winners were Yorgos Lamprinos in best editing for The Father; Paul Corley in best music for Mogul Mowgli; and Nick Ryan, Ben Baird and Sara de Oliveira in best sound for The Reason I Jump.
Details on an announcement for the remaining BIFA 2020 awards, including best British independent film, best director and best screenplay, will be made next week, with the winners expected to be revealed online also in early February.
BIFA 2020 craft winners
Best casting – Lucy Pardee, Rocks
Best cinematography – Ben Fordesman, Saint Maud
Best costume design – Charlotte Walter, Misbehaviour
Best editing – Yorgos Lamprinos, The Father
Best effects – Pedro Sabrosa, Stefano Pepin, His House
Best make up and hair design – Jill Sweeney, Misbehaviour
Best music – Paul Corley, Mogul Mowgli
Best production design – Jacqueline Abrahams, His House
Best sound – Nick Ryan, Ben Baird, Sara de Oliveira – The Reason I Jump