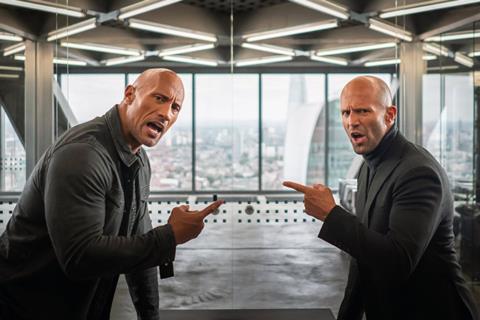 Universal Pictures International's Hobbs & Shaw has climbed to $160.9m internationally since last weekend's first wave and stands at $240.8m worldwide heading into its second session.
It is unlikely to be troubled by any other Hollywood release, although Chinese animation smash Nezha – now the biggest animation release of all time in the territory – could give the Fast franchise spin-off a run for its money, as could Bona Film Group's action film The Bravest produced by Andy Lau.
France and Italy are this week's new markets for Hobbs & Shaw and the omens would appear to be good after The Fate Of The Furious opened in each territory in 2017 on $10.6m and $6.7m, respectively.
Furious 7, which remains the highest grossing film in the franchise's 18-year history, generated opening weekends of $11.9m in France and $7.8m in Italy, respectively.
China is expected to be a huge market for Hobbs & Shaw when it opens on August 23, and delivered approximately $180m debuts for the last two Fast films. Hobbs & Shaw opens in South Korea on August 14.
Danny Boyle's counter-programming hit Yesterday stands at $52.4m from its international run and $121.5m worldwide and opens in Singapore this weekend. Illumination Entertainment's The Secret Life Of Pets 2 opens in Mexico and Spain and has reached $205.7m and $341.7m globally. The animation's 2016 predecessor debuted in Mexico on $7.6m, and in Spain on $4.5m.
Walt Disney Studios Motion Pictures International's The Lion King has been a consistently high-calibre performer over the past several weeks and crossed the $800m international milestone this week to reach $804m. The family animation debuts in Japan and stands at $1.253bn worldwide. Toy Story 4 has amassed $558.1m and $972.3m worldwide, while Aladdin stands at $678.8m, and $1.03bn globally.
Fox 2000 import and drama The Art Of Racing In The Rain starring Kevin Costner and Milo Ventimiglia opens day-and-date with North America in the UK, Brazil, Argentina, Thailand, Singapore and another 15 territories.
Spider-Man: Far From Home has reached $720.2m through Sony Pictures Releasing International, and has amassed $1.082bn worldwide.
Female-led crime drama The Kitchen starring Melissa McCarthy, Elisabeth Moss, and Tiffany Haddish opens in Brazil on Friday through Warner Bros Pictures International, the same day as in North America. Horror Annabelle Comes Home stands at $145.6m, and $217.7m globally. Romance The Sun Is Also A Star has grossed an early $1.6m and debuts in the UK.
Paramount Pictures International's family adventure Dora And The Lost City Of Gold arrives day-and-date with North America in 11 markets, among them Russia, Indonesia, Taiwan, Malaysia, Thailand, India, and Netherlands. Alligator horror Crawl has amassed $18.4m internationally, and Rocketman $90.8m.