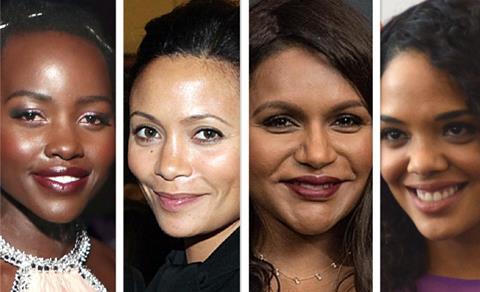 Hollywood talent has rallied around the Juneteenth anniversary commemorating the end of slavery and called for recognition of black rights and an end to racism and stereotypes in culture.
Lupita Lyong'o, Mindy Kaling, and Chris Evans were among actors who took to Twitter to support the idea of turning Juneteenth into a national holiday.
Separately, a large number of actors, writers, directors and producers including Barry Jenkins, Guga Mbatha-Raw, Thandie Newton, Tessa Thompson and Lee Daniels have signed a petition calling for systemic change.
The day commemorates the end of slavery in 1865 when Union forces arrived in the outpost of Texas and told African-Americans they were free, two years after Abraham Lincoln had issued the Emancipation Proclamation.
Nyong'o tweeted in support of Opal Lee, a 93-year-old lifelong campaigner for turning Juneteenth into a national holiday.
Mindy Kaling, who wrote and starred in Late Night opposite Emma Thompson, wrote on Twitter: "I can't imagine a better major federal holiday than a celebration/memorial to the end of slavery."
"As it should be," tweeted Chris Evans, responding to a report on the Huffington Post that Congresswoman Sheila Jackson Lee has proposed Juneteenth become a national holiday commemorating the anniversary of emancipation.
Hundreds of black artists have signed a petition calling on cultural institutions to break ties with the police with the ultimate goal of defunding the police nationwide; recruit black artists, amplify their work and advocate for black leadership; and promote black culture and education around the history of racism.
Among the signatories to the Black Artists For Freedom petition are Nyong'o, Cynthia Erivo, Gugu Mbatha-Raw, Ava DuVernay, Lena Waithe, Dee Rees, and Gabrielle Union.
Hollywood agencies UTA, CAA, Endeavor, ICM Partners, Gersh, APA, and SAG-AFTRA are a few of the companies that have made Juneteenth a national paid holiday for staff.
Juneteenth occurs this year during a period of ongoing nationwide unrest. Tens of thousands have joined Black Lives Matter protests over police brutality and the deaths of George Floyd, Breonna Taylor, Ahmaud Arbery and others, turning the spotlight on institutionalised racism in the United States and the country's dark past.
On Saturday Donald Trump will resume his re-election campaign when he attends a rally in Tulsa, Oklahoma, the site of a massacre 99 years ago when white supremacist mobs ransacked the wealthy black neighbourhood of Greenwood. Historians have said as many as 300 people may have been killed.